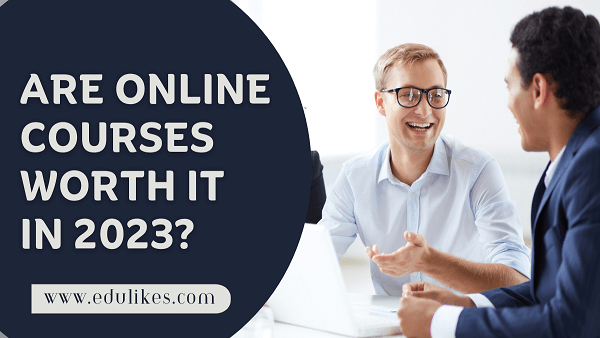 Are Online Courses Worth It in 2023?
Are you thinking about how online education can affect your career in the coming year? The rapid improvements in technology and education have made online learning incredibly popular. Through online short courses, you can earn professional certificates, which present you with a wealth of options to increase your knowledge and skills.
By enrolling in a course that is tailored to your interests and potential, you can build a profile for lucrative employment opportunities. In this essay, let's examine the realm of online education as well as its benefits. You can alter your career and your life by taking advantage of the flexibility and accessibility offered by online courses. To take the first step towards attaining your job goals, enroll in an online course right now.
What are Online Courses?
Virtual learning experiences through web-based classes, known as online courses, can be retrieved from a computer, tablet, or mobile device. One advantage of taking online courses is the tractability they offer in planning. However, it is important to have a reliable internet connection to access the vast amount of knowledge available from the comfort of your home or preferred locality.
How to Choose the Right Online Course?
With the growing demand for online learning courses, there is a massive range of possibilities offered at your fingertips. However, selecting the right course is key if you want to build a career in your chosen field. To help you make the right decision, take into consideration the following factors:
The credibility of the program
The area of your specialization
The affordability of the fees
Supporting features
Evaluation and curriculum
Level of education
Duration of the course
Flexibility and accessibility
Affiliation with a reputable university or college
Narrow down your investigation and stay ambitious. Be decent about your time limits, and don't forget to put your knowledge into practice. By carefully analyzing your decisions and making the right decision, you can pave the way for an effective career.
Who Can Benefit from Online Courses?
The beauty of online learning lies in its inclusivity. Everybody can benefit. Experts seeking career expansion can gain in-demand skills without interrupting their current roles. Entrepreneurs can gain specific capabilities through Online Short Courses, driving their businesses to new heights. Students can enhance their traditional education with self-paced learning, acquiring a competitive edge.
Conclusion
Certainly, with flexibility, affordability, and global credit, online courses are a sensible investment in your personal and professional growth. Clinch the future of education, increase your horizons, and unlock new prospects in 2023 and beyond.
Take the first step towards a brighter future. Enroll in an online course today and determine the power of learning at your fingertips. Remember, learning knows no limits, and with online courses, your possibility is limitless.
So, are you ready to grasp the prospect and embark on a transformative education journey? The choice is yours, and the opportunities are infinite. Start your online learning exploration now and make 2023 a year of growth and success. Happy learning!