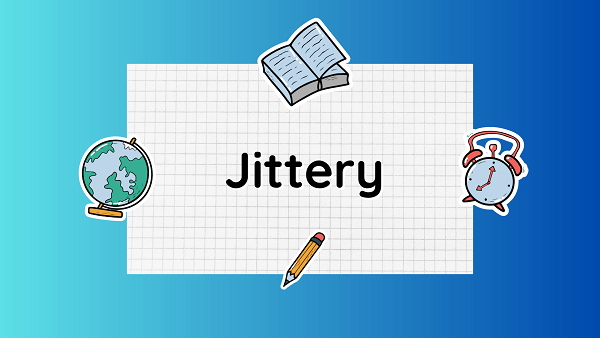 Casting Light on The Word 'Jittery'
Definition
"Jittery" is an adjective that describes a state of nervousness, restlessness, or anxiety. It refers to feeling uneasy, on edge, or experiencing involuntary trembling or shaking.
Physical and Emotional Manifestations
Jitteriness can be accompanied by physical symptoms such as trembling, fidgeting, rapid heartbeat, sweaty palms, or difficulty concentrating. It can also involve emotional signs like irritability, jumpiness, or a sense of being easily startled.
Causes
Jitteriness can be triggered by various factors, including stress, anxiety, caffeine consumption, certain medications, withdrawal from substances, hormonal changes, or underlying medical conditions.
Psychological and Physiological Responses
Jitteriness often arises from the body's fight-or-flight response, where the nervous system becomes activated in the face of perceived threats or stressors. It is the body's way of preparing for potential danger or heightened alertness.
Impact on Performance
Excessive jitteriness can interfere with concentration, focus, or performance in tasks that require precision or calmness, such as public speaking, taking exams, or performing in high-pressure situations.
Relationship to Anxiety
Jitteriness is often associated with anxiety or anxiety-related disorders. It can be a temporary response to specific stressors or a chronic condition for some individuals.
Contextual Usage
"Jittery" can be used to describe both a temporary state of nervousness in response to specific situations and a general disposition of being prone to anxiety or restlessness.
Metaphorical Use
The term "jittery" can also be used metaphorically to describe other phenomena that share a similar sense of uneasiness or instability, such as describing a volatile stock market or an uncertain situation.
Management and Coping
Strategies to manage jitteriness can include relaxation techniques, stress reduction methods, regular exercise, adequate sleep, mindfulness practices, and, in severe cases, seeking professional help.
Colloquial Expressions
The term "jittery" is sometimes used colloquially to describe the effects of excessive caffeine consumption, such as feeling jittery after consuming multiple cups of coffee or energy drinks.
FAQs(Frequently Asked Questions)
What does feeling jittery mean?
Feeling jittery refers to experiencing a state of nervousness, restlessness, or anxiety. It is characterized by a sense of unease, involuntary trembling or shaking, and a general feeling of being on edge. Jitteriness often arises in response to stress, anxiety, or other triggers and can manifest through physical and emotional symptoms.
Does jittery mean shaky?
Yes, jittery often implies a sense of shakiness. It describes a state of restlessness or nervousness that can manifest through involuntary trembling or shaking, both physically and emotionally.
What is a synonym for jittery?
A synonym for "jittery" is "nervous." Both words convey a state of uneasiness, restlessness, or anxiety. They describe a feeling of being on edge or experiencing involuntary trembling or shaking.
How do you describe someone who is jittery?
Someone who is jittery can be described as nervous, restless, or on edge. They may exhibit signs of trembling, fidgeting, or an overall sense of unease.
Related