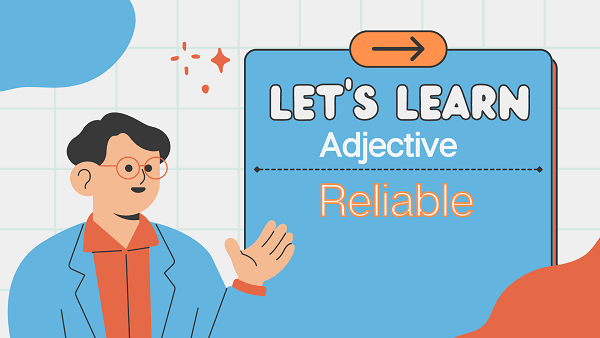 Casting Light on The Word 'Reliable'
Definition
"Reliable" is an adjective that describes something or someone as trustworthy, consistent, and able to be depended upon to perform or deliver as expected. A reliable entity is one that can be relied on with confidence.
Meaning
When something or someone is considered reliable, it implies that they consistently provide accurate, efficient, and consistent results or behavior. Being reliable is an important quality in various aspects of life, such as relationships, work, products, services, and information.
Synonyms
Trustworthy
Dependable
Consistent
Steady
Predictable
Faithful
Secure
Antonyms
Unreliable
Untrustworthy
Inconsistent
Unpredictable
Unfaithful
Fluctuating
Importance of Reliability
Reliability is crucial in many aspects of life, and its significance can be understood through the following points:
Trustworthiness
Being reliable builds trust between individuals, organizations, and customers. When people can depend on you, they are more likely to have faith in your actions and decisions.
Consistency
Reliability ensures that tasks are consistently completed with accuracy and efficiency, leading to more productive and efficient workflows.
Credibility
A reliable source of information or a reliable person gains credibility and respect in their field of expertise.
Customer Satisfaction
In business, reliable products and services contribute to higher customer satisfaction and loyalty. Customers are more likely to return to a brand that consistently delivers on its promises.
FAQs(Frequently Asked Questions)
How can I determine if a product or service is reliable before purchasing it?
Research online reviews and customer feedback to gauge the reliability of the product or service. Look for reputable brands with a track record of consistent performance.
Why is reliability important in the workplace?
Reliability in the workplace ensures that tasks are completed on time and accurately, leading to smoother operations, higher productivity, and better teamwork.
What should I do if I find someone in my team consistently unreliable?
Address the issue privately and express your concerns. Offer support and guidance, and give them an opportunity to improve. If the problem persists, involve higher management if necessary.
Can software and machines be considered reliable, and why is it important?
Yes, software and machines can be considered reliable when they consistently function as intended. Reliability in technology is crucial to avoid errors, minimize downtime, and ensure data integrity.
Continue To Explore A-Z Words