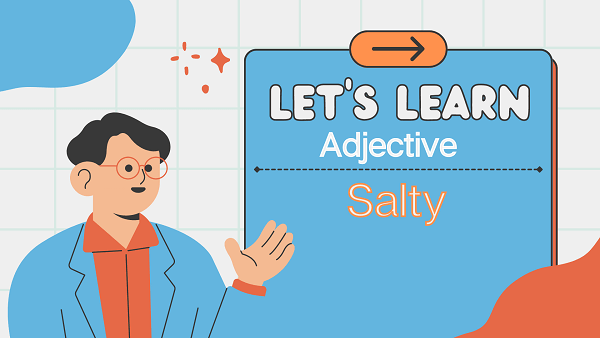 Casting Light on The Word 'Salty'
Definition
"Salty" is an adjective used to describe a taste that is dominated by salt or a flavor reminiscent of salt. It can also be used figuratively to describe someone who is sarcastic, bitter, or resentful in their speech or attitude.
Meaning
The primary meaning of "salty" refers to the taste of salt or anything with a high salt content. When used in a figurative sense, it denotes a person's attitude or language that is sharp, acerbic, or ill-tempered.
Synonyms
Saline
Briny
Savory
Piquant
Spicy
Acrid
Sharp-tasting
Biting
Tart
Sardonic (in the figurative sense)
Antonyms
Unsalty
Unsalted
Bland
Tasteless
Insipid
Mild
Sweet
Gentle
Kind
Generous (in the figurative sense)
Importance of  Salty
Understanding the concept of "salty" is crucial for various reasons:
Culinary Appreciation
Recognizing and understanding the salty taste in food is essential for culinary appreciation and balanced flavor profiles in cooking.
Effective Communication
Recognizing when someone is being "salty" in their speech helps in understanding their emotions and allows for effective communication and empathy.
Social Dynamics
The use of "salty" language or attitude can impact social interactions and relationships, highlighting the importance of emotional intelligence and self-awareness.
Nutrition Awareness
Being aware of the salt content in food is crucial for maintaining a healthy diet and preventing health issues related to excessive sodium consumption.
FAQs(Frequently Asked Questions)
Can "salty" foods be harmful to health?
Yes, consuming excessive amounts of salty foods can be harmful to health. A high intake of sodium is linked to hypertension (high blood pressure) and an increased risk of heart disease. It's essential to balance salt intake as part of a healthy diet.
What are some alternative ways to add flavor to food without using salt?
Some alternative ways to add flavor to food without relying solely on salt include using herbs and spices, citrus fruits, vinegar, garlic, onions, and various seasoning blends. These options can enhance taste while reducing sodium consumption.
How can one respond to someone who is being "salty" in a conversation?
Responding to someone who is being "salty" requires patience and empathy. It's essential to remain calm, avoid escalating the situation, and try to understand the underlying emotions causing their behavior. Responding with kindness and assertiveness can help defuse tension and encourage positive communication.
Is "salty" language appropriate in professional settings?
Using "salty" language or being sarcastic in a professional setting is generally not appropriate. It can create a negative impression and undermine professionalism. It's best to maintain a respectful and positive tone when communicating in professional environments.
Continue To Explore A-Z Words