Casting Light on The Word 'Atavistic'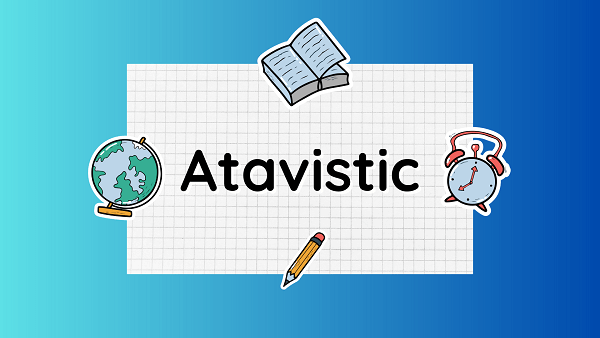 Definition
"Atavistic" is an adjective that describes the reemergence or reappearance of a trait, characteristic, or behavior from a previous or ancestral generation. It suggests a return to earlier, ancestral forms or patterns.
Origin
The term "atavistic" is derived from the Latin word "atavus," which means "ancestor" or "forefather." It was first used in the mid-19th century by biologist Ernst Haeckel to describe the occurrence of ancestral traits in individuals.
Inheritance
Atavistic traits are thought to be the result of genetic information from distant ancestors being expressed in an individual's phenotype. These traits may have been suppressed or dormant in recent generations but resurface unexpectedly.
Biological Examples
In biology, atavistic characteristics can manifest in various forms. For instance, a human born with a tail-like appendage or an individual with an extra set of nipples may be considered to exhibit atavistic traits.
Evolutionary Significance
Atavistic traits provide insights into the evolutionary history and genetic makeup of a species. They suggest the presence of genetic information from ancestral populations that can occasionally resurface due to genetic variations or mutations.
Cultural Significance
The concept of atavism has also been applied to cultural and sociological contexts. It can refer to the reappearance of outdated or archaic cultural practices, beliefs, or social behaviors that were prevalent in the past but have reemerged in contemporary society.
Psychological Interpretation
In psychology, the term "atavistic" has been used to describe behavior that is perceived as primal or instinctual, reminiscent of earlier evolutionary stages. It implies a regressive or primitive nature in certain behaviors or impulses.
Criminal Anthropology
In the early 20th century, the field of criminal anthropology explored the notion of atavism to explain criminal behavior. This theory posited that criminals exhibited atavistic traits or characteristics associated with earlier stages of human development.
Controversies
The concept of atavism has sparked debates and controversies, particularly in its application to social, cultural, and criminal contexts. Some argue that attributing behavior solely to atavistic traits oversimplifies complex phenomena and neglects environmental and social factors.
Scientific Exploration
While atavistic traits can occur, they are relatively rare and do not negate the overwhelming influence of genetic inheritance from immediate ancestors. The scientific understanding of atavism continues to evolve as researchers uncover new insights into genetic expression and evolutionary biology.
Continue To Explore A-Z Words