Casting Light on The Word 'Ataractic'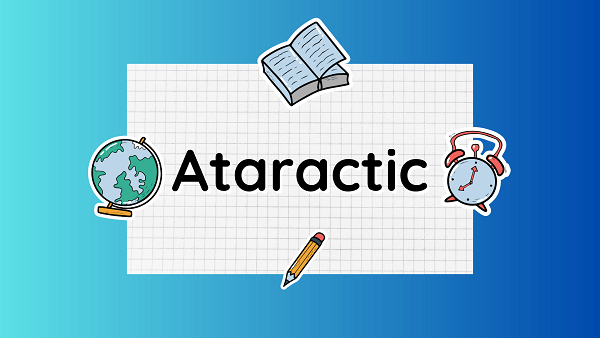 Definition
"Ataractic" refers to something that has a calming, tranquilizing, or sedative effect, particularly on the mind or emotions. It is often used to describe drugs or treatments that reduce anxiety, tension, or agitation.
Synonyms
Synonyms for "ataractic" include tranquilizing, calming, sedative, soothing, relaxing, hypnotic, anxiolytic, and psychotropic.
Historical Usage
The term "ataractic" has its roots in the ancient Greek word "ataraxia," which means tranquility or freedom from disturbance. It was first introduced in the field of medicine by the Greek physician Galen.
Medicinal Use
"Ataractic" is primarily used to describe medications or treatments that have a calming effect on the mind or nerves. These substances are commonly prescribed to treat anxiety disorders, insomnia, and other conditions characterized by excessive agitation or restlessness.
Psychopharmacology
In the field of psychopharmacology, "ataractic" drugs belong to a class of medications known as antipsychotics or neuroleptics. These medications are used to manage symptoms of schizophrenia, bipolar disorder, and other psychiatric conditions.
Sedative Effects
Ataractic substances work by modulating the activity of certain neurotransmitters in the brain, such as dopamine and serotonin. By doing so, they help to alleviate symptoms of agitation, anxiety, and psychosis.
Side Effects
Like any medication, ataractic drugs can have side effects, which may include drowsiness, dizziness, dry mouth, blurred vision, and potential long-term effects on movement and metabolic health. The specific side effects depend on the particular medication and individual response.
Individual Response
The effects of ataractic medications can vary from person to person. Different individuals may respond differently to the same medication, and the appropriate dosage or choice of medication may need to be tailored to the individual's specific needs.
Holistic Approaches
While ataractic medications can be an essential part of psychiatric treatment, they are often used in conjunction with other therapeutic approaches, such as counseling, psychotherapy, and lifestyle changes, to promote overall well-being.
Regulation
The use of ataractic medications is subject to medical prescription and supervision. They should be used under the guidance of a healthcare professional who can evaluate the individual's specific condition, monitor their response, and adjust treatment as necessary.
Continue To Explore A-Z Words