Casting Light on The Word 'Adorable'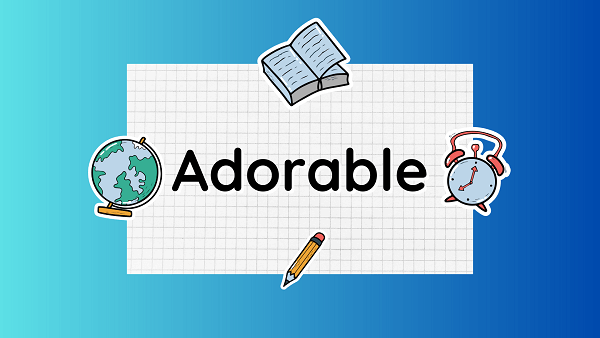 Definition
"Adorable" is an adjective used to describe something or someone that is extremely charming, lovable, or endearing.
Origin
The word "adorable" originates from the Latin word "adorable," which means "to worship" or "to adore."
Synonyms
Some synonyms for "adorable" include cute, charming, sweet, lovely, delightful, appealing, enchanting, and lovable.
Connotation
"Adorable" generally carries a positive connotation and is used to express affection, admiration, or fondness for something or someone. It implies an emotional response of finding someone or something irresistible or captivating.
Usage
The word "adorable" is commonly used to describe infants, children, animals, or objects that evoke a strong feeling of warmth, tenderness, or affection.
Visual Appeal
"Adorable" often suggests a combination of physical attractiveness and qualities that elicit an emotional response, such as innocence, playfulness, or vulnerability.
Cultural Influences
What is considered "adorable" can vary across cultures and may be influenced by cultural norms, aesthetics, and personal preferences.
Contextual Usage
"Adorable" can be used in various contexts, such as describing a baby's smile, a pet's behavior, a character in a story, or even an inanimate object that is perceived as cute or endearing.
Subjectivity
The perception of what is considered "adorable" can vary from person to person, as it is subjective and influenced by individual experiences, cultural background, and personal preferences.
FAQs(Frequently Asked Questions)
Does adorable mean cute?
Yes, "adorable" and "cute" are closely related terms and can be used interchangeably in many contexts. Both words convey a sense of charm, attractiveness, and endearment. When something or someone is described as adorable, it often implies that they are cute in a particularly delightful or lovable way.
When someone looks adorable?
Someone looks adorable, it typically means they appear charming, cute, and lovable in a way that evokes feelings of warmth and affection
What is another word for adorable?
You can use several alternative words to convey a similar meaning to "adorable." Here are some options:
Cute
Charming
Sweet
Lovely
Delightful
Enchanting
Appealing
Endearing
Winsome
Darling
What does adorable wife mean?
The term "adorable wife" is an expression used to describe a wife who is extremely lovable, charming, and endearing. It suggests that the person speaking finds their wife irresistibly cute, attractive, and delightful.