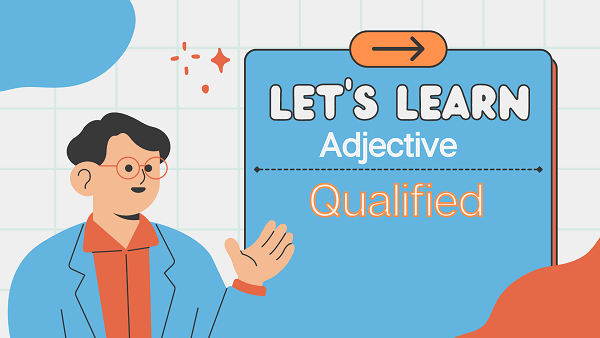 Casting Light on The Word 'Qualified'
Definition
The term "qualified" is an adjective that describes someone who possesses the necessary skills, knowledge, or experience to perform a particular task or fulfill a specific role. It indicates that an individual meets the requirements or standards set for a particular job or activity.
Meaning
When someone is described as qualified, it implies that they have attained a certain level of competence, expertise, or proficiency in a particular field or area of study. It suggests that they have the necessary qualifications or credentials to perform a specific job or undertake a particular responsibility.
Synonyms
Competent
Skilled
Capable
Experienced
Proficient
Antonyms
Incompetent
Unskilled
Inexperienced
Inadequate
Unqualified
Importance of Qualified
Job Performance
Qualifications are crucial in determining an individual's ability to perform their job effectively. Having the necessary qualifications ensures that a person possesses the required skills and knowledge to carry out their duties proficiently.
Credibility and Trust
Qualifications provide credibility and inspire trust. They indicate that an individual has undergone training or education, demonstrating their commitment to their field and their ability to meet certain standards.
Opportunities and Advancement
Being qualified opens up opportunities for career advancement, as many roles and positions require specific qualifications. It allows individuals to pursue higher-level positions and responsibilities in their chosen field.
Quality Assurance
Qualifications serve as a measure of quality assurance in various industries. They help ensure that professionals adhere to certain standards and best practices, promoting quality and professionalism within their respective fields.
FAQs(Frequently Asked Questions)
How can I become qualified for a specific job?
Becoming qualified for a specific job usually involves acquiring the necessary education, training, or certifications related to that field. Research the requirements for the job you're interested in and determine the qualifications needed. Pursue relevant education or training programs and gain practical experience to enhance your qualifications.
Are qualifications more important than experience?
Both qualifications and experience are important factors in determining a person's suitability for a job or role. While qualifications demonstrate the necessary knowledge and skills, experience provides practical application and real-world understanding. The importance of each may vary depending on the specific job and industry.
Can someone be overqualified for a job?
Yes, it is possible for someone to be considered overqualified for a job. This typically occurs when an individual possesses qualifications or experience that exceed the requirements of the position. Employers may be hesitant to hire overqualified candidates, fearing that they may not be satisfied with the role or that they may leave for a better opportunity.
Do qualifications expire?
Some qualifications, such as certifications or licenses, may have expiration dates or require periodic renewal to ensure that professionals stay up to date with current practices and knowledge. Other qualifications, such as academic degrees, generally do not expire but may become less relevant over time if there have been significant advancements or changes in the field. Continuous learning and professional development are important to maintain and enhance qualifications.
Continue To Explore A-Z Words