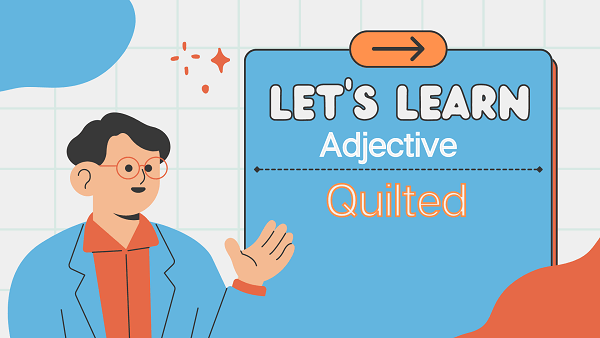 Casting Light on The Word 'Quilted'
Definition
"Quilted" is an adjective that describes something that is made or covered with quilting, a type of sewing technique where two or more layers of fabric are stitched together to create a padded, insulated, and decorative material.
Meaning
When we say something is "quilted," we mean that it has been crafted using the quilting technique, resulting in a unique pattern of stitches that hold the layers of fabric together. Quilting is commonly used for making blankets, bed covers, clothing, and other textile items.
Synonyms
Padded
Stitched
Layered
Textured
Puffy
Cushioned
Embroidered
Inlaid
Antonyms
Unpadded
Smooth
Plain
Unadorned
Unstitched
Flat
Thin
Simple
Importance of Qualified
The term "quilted" holds significance in various ways. Quilting not only serves a functional purpose, providing warmth and comfort in blankets and clothing but also serves as an art form. Quilted patterns can be intricate and visually appealing, making them valuable in interior design and fashion industries. Moreover, quilting can be a cherished tradition, passed down through generations, carrying historical and sentimental importance.
FAQs(Frequently Asked Questions)
What are some examples of quilted items other than blankets?
Besides blankets, "quilted" can describe various items, such as quilted jackets, vests, handbags, and table runners. It can also be used for upholstered furniture that has a padded and textured appearance.
How is "quilted" different from "embroidered"?
"Quilted" and "embroidered" are two different sewing techniques. Quilting involves stitching together layers of fabric to create a padded pattern, while embroidery involves decorating fabric with decorative stitches or designs.
Why is quilting considered an art form?
Quilting is considered an art form because it involves creativity, design, and craftsmanship. Quilters create unique patterns and use various fabrics to express their artistic vision. Quilted items often carry personal and cultural significance, reflecting the individuality of the maker.
What is the historical importance of quilting?
Quilting has historical importance in many cultures around the world. It has been used for practical purposes, such as creating warm bedding, as well as for storytelling and preserving family history. Quilts often contain symbols, patterns, and designs that reflect the cultural heritage and narratives of the communities that create them.
Continue To Explore A-Z Words