Casting Light on The Word 'Angry'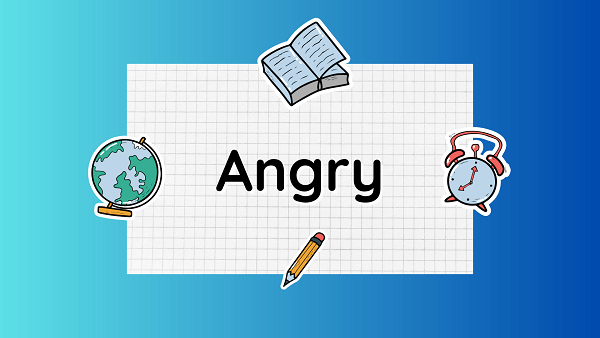 Definition
"Anxious" is an adjective that describes a state of uneasiness, worry, or apprehension, often accompanied by feelings of nervousness or tension.
Synonyms
Worried, concerned, uneasy, apprehensive, nervous, tense, fretful.
Antonyms
Calm, relaxed, at ease, unworried, confident.
Usage
The term "anxious" is commonly used to describe a state of mental distress or unease, often related to anticipated or uncertain future events.
Etymology
"Anxious" traces its origins back to the Latin word "anxious," which means "troubled" or "distressed." It entered the English language in the 17th century.
Emotional State
Anxiousness is often associated with feelings of fear, worry, or unease, typically arising from concerns about potential outcomes or future uncertainties.
Physical Symptoms
Anxiety can manifest in various physical symptoms, including restlessness, increased heart rate, rapid breathing, trembling, sweating, or difficulty concentrating.
Causes
Anxiety can be triggered by a range of factors, such as stressful situations, performance pressure, personal concerns, phobias, or certain mental health conditions.
Common Examples
Examples of situations that may induce anxiety include job interviews, public speaking, medical procedures, or major life changes.
FAQs(Frequently Asked Questions)
What does an anxious feeling mean?
An anxious feeling refers to a state of unease, worry, or apprehension that one experiences. It is a subjective emotional state characterized by a sense of heightened alertness, nervousness, or tension.
Why am I always anxious?
Some general factors that might contribute to feeling anxious:
Generalized Anxiety Disorder (GAD)
Environmental or Situational Factors
Biological Factors
Past Experiences
Personality Traits
Which means the same as anxiety?
Several words can be used as synonyms for anxiety.
Worry
Concern
Apprehension
Unease
Nervousness
Tension
Fearfulness
Restlessness
Agitation
Distress