Casting Light on The Word 'Ataxic'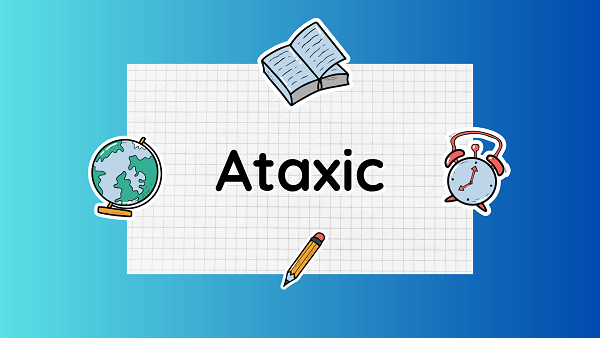 Definition
"Ataxic" is an adjective that describes a state or condition characterized by a lack of coordination, control, or balance in voluntary muscle movements. It is commonly associated with neurological disorders or conditions affecting the central nervous system.
Neurological Impairment
Ataxia is typically caused by damage or dysfunction in the cerebellum, which is responsible for coordinating voluntary movements. It can result from various factors, including genetic disorders, trauma, infections, toxins, or degenerative diseases.
Symptoms
Individuals with ataxic symptoms may experience unsteady gait, difficulty with balance and coordination, tremors or shaking movements, slurred speech, and impaired fine motor skills. The severity of symptoms can vary depending on the underlying cause.
Types of Ataxia
Ataxia can manifest in different forms, including hereditary ataxias, acquired ataxias, and sporadic ataxias. Examples of hereditary ataxias include Friedreich's ataxia, spinocerebellar ataxias (SCAs), and ataxia telangiectasia.
Diagnosis
Diagnosing ataxia involves a comprehensive evaluation of an individual's medical history, physical examination, and sometimes specialized tests such as genetic testing, neuroimaging (MRI), or electrophysiological studies.
Treatment
Treatment options for ataxia are often focused on managing symptoms, as there is no cure for most forms of ataxia. Physical therapy and occupational therapy can help improve balance and coordination. Assistive devices may be recommended to enhance mobility and independence.
Impact on Daily Life
Ataxia can significantly impact an individual's quality of life and daily functioning. Difficulties with walking, writing, speaking, and performing everyday tasks may require adaptations and support from caregivers, family members, or healthcare professionals.
Research and Support
Ataxia research is ongoing, with efforts focused on understanding the underlying causes, developing treatments, and improving the management of symptoms. Support groups and organizations dedicated to ataxia provide resources, education, and advocacy for affected individuals and their families.
Ataxic Cerebral Palsy
Ataxic cerebral palsy is a specific type of cerebral palsy characterized by ataxic movements. It is caused by damage or malformation of the brain's cerebellum and can result in uncoordinated voluntary movements.
Differentiation from Other Motor Disorders
Ataxic movements can sometimes resemble other motor disorders such as dystonia, tremors, or spasticity. However, each condition has distinct characteristics and diagnostic criteria, requiring careful assessment by healthcare professionals to determine the accurate diagnosis.
Continue To Explore A-Z Words