Casting Light on The Word 'Angry'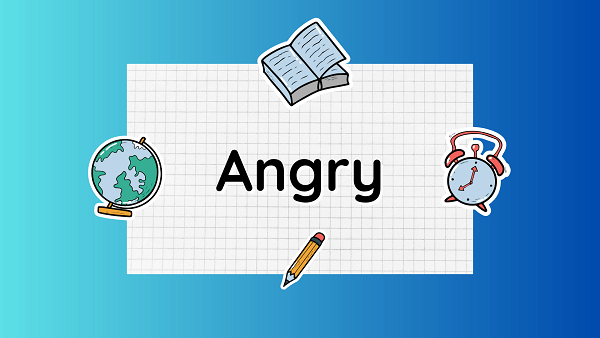 Definition
"Angry" is an adjective that describes a strong feeling of displeasure, hostility, or irritation typically resulting from a perceived offense, injustice, or frustration.
Origin
The word "angry" can be traced back to the Old Norse word "anger," meaning "grief" or "sorrow."
Synonyms
Some synonyms for "angry" include furious, enraged, irate, livid, incensed, wrathful, annoyed, and upset.
Physical and Emotional Manifestations
Anger can be accompanied by various physical and emotional manifestations, such as raised voice, flushed face, clenched fists, increased heart rate, and feelings of resentment, indignation, or aggression.
Adaptive Function
Anger is a normal and natural emotion that serves a purpose in human psychology. It can signal the presence of perceived threats, motivate action, assert boundaries, or communicate dissatisfaction.
Expression and Regulation
How individuals express and regulate anger can vary greatly. Some people may express it openly and assertively, while others may suppress or internalize it. Effective anger management involves understanding and expressing anger in healthy and constructive ways.
Triggers
Anger can be triggered by a variety of factors, such as perceived injustices, frustrations, conflicts, disrespect, or violations of personal boundaries.
Impact
Uncontrolled or chronic anger can have negative consequences on personal relationships, physical health, mental well-being, and overall quality of life. It is important to develop healthy coping strategies and seek professional help if anger-related issues persist.
Cross-Cultural Differences
The expression and perception of anger can vary across cultures due to different social norms, beliefs, and values. Some cultures may encourage or tolerate more overt displays of anger, while others may emphasize restraint or suppression.
FAQs(Frequently Asked Questions)
What is a better word for angry?
There are several alternatives to the word "angry" that you can use to describe the feeling of displeasure or frustration. Here are some options:
Furious
Enraged
Indignant
Wrathful
Incensed
Irritated
Upset
Mad
Fuming
Livid
What does very angry mean?
Very angry" is a phrase used to emphasize the high level or intensity of anger. It indicates that someone is experiencing a significant degree of displeasure, frustration, or hostility.
Is upset a synonym for angry?
Yes, "upset" can be considered a synonym for "angry" in certain contexts. While the two words are not entirely interchangeable, they can overlap in meaning.
Continue To Explore A-Z Words