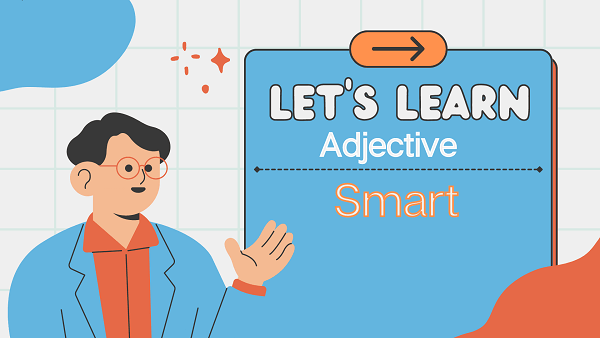 Casting Light on The Word 'Smart'
Definition and Meaning
"Smart" is an adjective used to describe someone or something that is intelligent, clever, or quick-witted. It refers to the ability to think and understand things quickly, solve problems effectively, and make well-informed decisions.
Meaning
Intelligent
clever
bright
sharp
astute
knowledgeable
quick-witted.
Antonyms
Stupid
unintelligent
foolish
dull
ignorant,
slow-witted.
Importance of Smart
The concept of being smart is significant in various aspects of life:
Academic and Professional Success
Smart individuals often excel in academic settings and careers that require critical thinking, problem-solving, and adaptability.
Innovation and Problem-Solving
Smart people are often at the forefront of innovation, as their ability to think creatively and critically enables them to come up with groundbreaking solutions to complex problems.
Effective Decision-Making
Being smart allows individuals to make informed decisions, weigh pros and cons, and consider various perspectives, resulting in better outcomes.
Personal Development
Embracing a growth mindset and striving to become smarter can lead to continuous learning and self-improvement.
FAQs(Frequently Asked Questions)
Is being smart the same as having a high IQ?
Being smart and having a high IQ are related concepts, but they are not exactly the same. IQ (Intelligence Quotient) is a standardized measure of intelligence, whereas being smart is a broader term that includes not only intelligence but also factors like practical knowledge, problem-solving abilities, and social intelligence.
Can someone become smarter over time?
Yes, intelligence is not solely fixed at birth. While a person's inherent intellectual capabilities may have a genetic component, individuals can increase their knowledge, cognitive skills, and problem-solving abilities through education, experience, and continuous learning.
Are there different types of intelligence?
Yes, psychologist Howard Gardner proposed the theory of multiple intelligences, which suggests that there are different types of intelligence, including linguistic, logical-mathematical, spatial, musical, bodily-kinesthetic, interpersonal, intrapersonal, and naturalistic intelligence. This theory acknowledges that intelligence can manifest in various ways.
Can emotional intelligence be considered a form of "smartness"?
Yes, emotional intelligence (EI) refers to the ability to understand and manage one's emotions effectively and recognize and empathize with the emotions of others. It is often considered a form of "smartness" because it plays a vital role in interpersonal relationships, communication, and social interactions, leading to better decision-making and success in various areas of life.
Continue To Explore A-Z Words