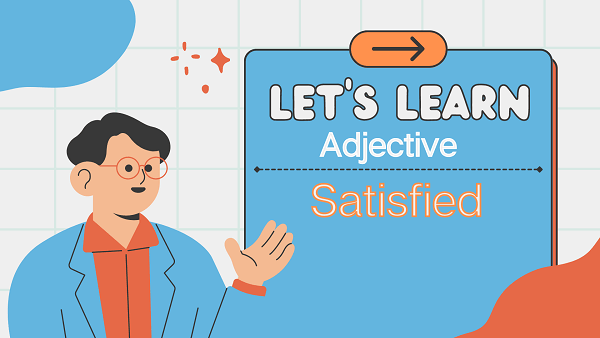 Casting Light on The Word 'Satisfied'
Definition
"Satisfied" is an adjective used to describe a state of contentment, fulfillment, or gratification. When someone is satisfied, it means they have their needs, desires, or expectations fulfilled, and they feel a sense of contentedness.
Meaning
The meaning of "satisfied" is linked to a positive emotional state resulting from achieving or obtaining what one desired or required. It indicates a feeling of completeness and contentment with a particular situation, outcome, or experience.
Synonyms
Content
Pleased
Gratified
Fulfilled
Happy
Contented
Satiated
Accomplished
Delighted
Joyful
Antonyms
Dissatisfied
Unsatisfied
Unfulfilled
Discontented
Unhappy
Displeased
Unsated
Frustrated
Unaccomplished
Ungratified
Importance of Satisfied
Understanding the concept of "satisfied" is crucial for various reasons:
Personal Well-being
Feeling satisfied with life and accomplishments is essential for overall well-being and mental health.
Motivation and Success
The feeling of satisfaction can act as a motivating factor, driving individuals to set and achieve goals.
Relationships
Understanding what makes individuals satisfied in relationships helps to foster healthier and more fulfilling connections.
Customer Satisfaction
In business, understanding and meeting customer satisfaction is critical for maintaining loyal customers and building a positive reputation.
FAQs(Frequently Asked Questions)
How can I achieve a sense of satisfaction in life?
Achieving a sense of satisfaction in life involves setting realistic and meaningful goals, pursuing passions and interests, maintaining positive relationships, practicing gratitude, and taking care of physical and mental health.
Can material possessions lead to true satisfaction?
While material possessions can provide temporary happiness or comfort, true satisfaction usually comes from experiences, personal growth, and meaningful relationships rather than solely from material possessions.
What should I do if I am consistently dissatisfied with life?
If you are consistently dissatisfied with life, it might be helpful to reflect on the root causes of your discontentment. Seeking guidance from a mental health professional or counselor can provide valuable insights and support in addressing underlying issues.
Why is customer satisfaction important in business?
Customer satisfaction is vital in business because satisfied customers are more likely to become loyal, repeat customers. Positive word-of-mouth from satisfied customers can also attract new customers, enhancing the company's reputation and long-term success.
Continue To Explore A-Z Words