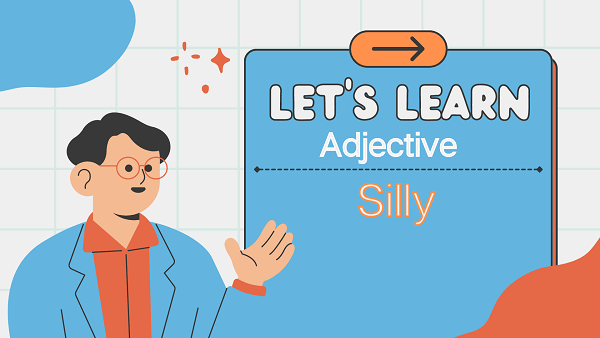 Casting Light on The Word 'Silly'
Definition and Meaning
"Silly" is an adjective used to describe something or someone who behaves in a foolish, senseless, or trivial manner. It often refers to actions, ideas, or remarks that lack seriousness, practicality, or intelligence. Silly things are usually not to be taken seriously and can be amusing or entertaining.
Meaning
Foolish, senseless, nonsensical, absurd, ridiculous, frivolous, lighthearted, playful.
Antonyms
Serious, sensible, intelligent, logical, practical, wise, prudent.
Importance of Silly
Understanding the concept of silliness is essential in various contexts, and it holds significance in the following ways:
Humor and Entertainment
Silly behavior, jokes, or comedy add levity and amusement to life. Humor often serves as a coping mechanism and can help people relax and reduce stress.
Social Interactions
Engaging in silly or lighthearted activities with others can strengthen social bonds, promote laughter, and create a positive atmosphere in social settings.
Creativity and Imagination
Embracing silliness can foster creativity and imagination, encouraging individuals to think outside the box and explore unconventional ideas.
Child Development
In child development, silliness plays a crucial role in learning and cognitive growth. Playful activities aid in developing motor skills, social skills, and emotional expression in children.
FAQs(Frequently Asked Questions)
Is being silly the same as being immature?
Not necessarily. Being silly doesn't necessarily imply immaturity. Silly behavior can be a lighthearted way to have fun and enjoy life. Immaturity, on the other hand, usually refers to a lack of emotional or intellectual maturity and an inability to handle responsibilities appropriately.
Can silliness be inappropriate in certain situations?
Yes, silliness can be inappropriate in some contexts, such as formal or serious situations like funerals, job interviews, or important meetings. In these settings, displaying silliness may be seen as disrespectful or unprofessional.
Does silliness have any psychological benefits?
Yes, silliness and humor have various psychological benefits. They can reduce stress, improve mood, boost the immune system, and increase pain tolerance. Laughter, often associated with silliness, releases endorphins, the body's natural feel-good chemicals.
Can silliness be a form of self-expression?
Yes, silliness can be a form of self-expression. Some individuals may use silliness as a way to showcase their unique personality and bring joy to others. It can also be a means to break down social barriers and connect with others on a more genuine level.
Continue To Explore A-Z Words