Casting Light on The Word 'Giddy'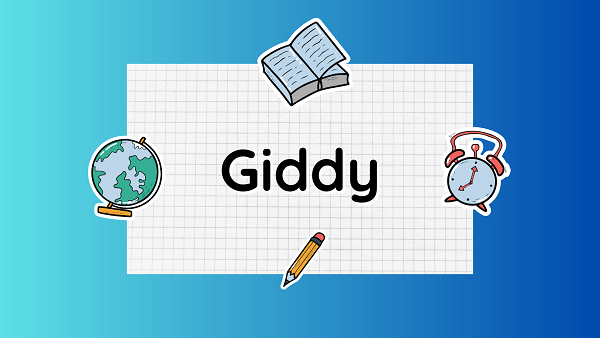 Giddy" is an adjective that describes a feeling of excitement, lightheadedness, or dizziness often accompanied by a lack of stability or control.
Definition
"Giddy" refers to a state of being lightheaded, dizzy, or overwhelmed with excitement or joy. It can also describe a feeling of unsteadiness or a lack of control.
Emotional state
Giddiness often manifests as a euphoric or giddy feeling, characterized by a sense of elation, enthusiasm, or exuberance. It is commonly associated with heightened emotions and a carefree disposition.
Physical sensation
Giddiness can be accompanied by physical sensations such as dizziness, light-headedness, or a feeling of spinning. It may result from factors such as adrenaline rush, exhilaration, or a sudden shift in emotions.
Excitement and joy
Giddiness is frequently associated with positive experiences, such as receiving good news, experiencing a thrilling event, or being in a state of anticipation. It can convey a sense of happiness, delight, or childlike enthusiasm.
Lack of stability or control
Giddiness can also describe a feeling of being unsteady, unstable or lacking control over one's emotions or actions. It may suggest a temporary loss of composure or a state of being easily overwhelmed.
Synonyms
Some synonyms for "giddy" include excited, elated, ecstatic, euphoric, dizzy, lightheaded, gleeful, buoyant, and overjoyed.
Relationship to humor
"Giddy" is sometimes used to describe a sense of amusement or lightheartedness, particularly in relation to laughter or silly behavior. It can imply a state of merriment or be easily amused.
Connection to youthfulness
The term "giddy" is sometimes associated with youthful energy, exuberance, or a carefree attitude. It can evoke a sense of playfulness, curiosity, or innocence.
Cultural references
The word "giddy" has been used in literature, poetry, and popular culture to depict various emotional states, often in the context of romance, exhilaration, or comedic situations.
Relationship to vertigo
While "giddy" may sometimes describe a sense of dizziness or lightheadedness, it is distinct from medical conditions such as vertigo, which involve a specific type of balance disorder.
Temporary nature
Giddiness is typically a transient state that subsides over time as the excitement or emotions fade. It is often associated with temporary circumstances or events.
FAQs(Frequently Asked Questions)
What does it mean to feel giddy?
To feel giddy means to experience a sensation of excitement, lightheadedness, or dizziness often accompanied by a lack of stability or control. It is a state of elation or enthusiasm that may cause one to feel dizzy or overwhelmed.
Is Giddy happy?
Giddy can be associated with happiness, as it often expresses excitement or joy. However, giddiness is a temporary state of heightened emotions and can also involve a sense of lightheadedness or lack of stability.
When someone is giddy?
Someone can feel giddy in various situations, such as when they receive good news, experience a thrilling event, or are overwhelmed with excitement or joy. Giddiness can arise from positive emotions and a sense of elation.
What does giddy in love mean?
Feeling giddy in love typically refers to experiencing a state of excitement, joy, or exhilaration due to romantic feelings. It is characterized by a light-hearted and euphoric emotional state often associated with the early stages of infatuation or intense affection for someone.
Related