Casting Light on The Word 'Hungry'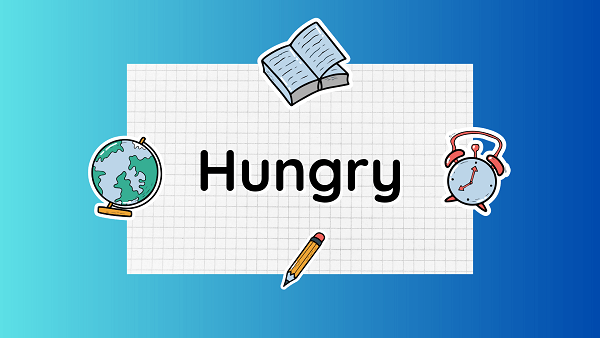 Definition
"Hungry" refers to the state of being in need of food or having a strong appetite. It is the sensation or feeling of hunger, which is the body's natural response to the need for nourishment.
Physical Sensation
When someone is hungry, they may experience physical symptoms such as a rumbling stomach, emptiness, weakness, lightheadedness, or irritability. These sensations are signals from the body indicating the need for sustenance.
Metaphorical Use
"Hungry" can also be used metaphorically to describe a strong desire or craving for something other than food. For example, one can be "hungry for success," indicating a strong drive or ambition.
Basic Human Need
Hunger is a fundamental physiological need required for survival. It motivates individuals to seek and consume food to satisfy their nutritional requirements.
Synonyms
Some synonyms for "hungry" include famished, ravenous, starving, peckish, voracious, and empty. These words express varying degrees of intensity in terms of the feeling of hunger.
Antonyms
Antonyms of "hungry" include full, satisfied, satiated, and content. These words represent the opposite state when one's hunger has been appeased.
Cultural Variations
The concept of hunger and its perception can vary across cultures and societies. Cultural norms, meal patterns, and individual dietary habits influence how hunger is experienced and expressed.
Social and Economic Implications
Hunger is a critical issue in many parts of the world. Food insecurity and lack of access to nutritious meals contribute to hunger on a global scale, with significant social and economic consequences.
Idioms and Expressions
The word "hungry" is also used in various idioms and expressions, such as "hungry as a wolf," "to go hungry," or "hunger pangs," which refer to the physical discomfort associated with hunger.
Emotional Hunger
While "hungry" typically refers to the physical need for food, it can also be used metaphorically to describe emotional or psychological needs, such as the desire for love, attention, or fulfillment.
Continue To Explore A-Z Words