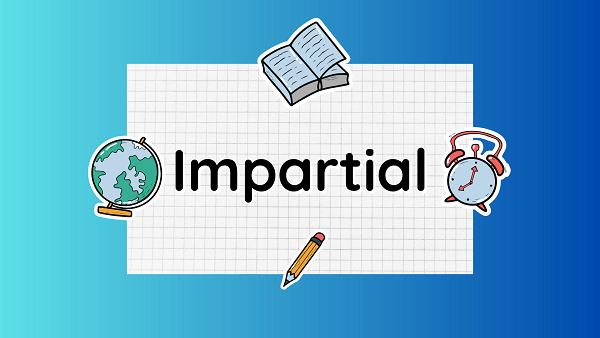 Casting Light on The Word 'Impartial'
Definition
"Impartial" is an adjective that describes someone or something that is unbiased, fair, and not influenced by personal feelings, preferences, or prejudices. It implies the ability to make judgments or decisions objectively, without favoring any particular side or party.
Unbiased and Fair
An impartial person or entity approaches situations or conflicts with neutrality and does not show favoritism. They strive to consider all relevant factors and evidence objectively before forming an opinion or making a decision.
Absence of Bias
"Impartial" suggests a lack of partiality, prejudice, or discrimination. It conveys a commitment to treating all individuals or parties fairly and equally, regardless of personal interests or affiliations.
Justice and Law
The concept of impartiality is often associated with the administration of justice and the legal system. Judges, juries, and arbitrators are expected to be impartial to ensure a fair and unbiased resolution of legal disputes.
Ethical Conduct
Impartiality is considered a virtue in various professions and contexts, including journalism, scientific research, and leadership. It reflects a commitment to integrity and fairness in carrying out one's responsibilities.
Synonyms
Some synonyms for "impartial" include unbiased, neutral, fair, just, objective, even-handed, equitable, and disinterested.
Impartiality vs. Partiality
The opposite of impartiality is partiality, which refers to favoring one side or party over others. Being partial can compromise fairness and objectivity.
Ethical Codes and Guidelines
Many professions and organizations have ethical codes or guidelines that emphasize the importance of impartiality and discourage bias or favoritism.
Impartiality in Media
Impartiality is a crucial principle in journalistic ethics, requiring journalists to present information fairly and accurately, avoiding personal bias or favoritism.
Importance in Decision-Making
Impartiality is essential in decision-making processes to ensure fairness, transparency, and integrity. It promotes trust, legitimacy, and the perception of justice in various settings.
FAQs(Frequently Asked Questions)
What do we mean by impartial?
Being impartial means being unbiased, fair, and not favoring any particular side or party.
What's another word for impartial?
Another word for "impartial" is "unbiased." Both terms convey the same meaning of being fair, neutral, and not influenced by personal preferences or prejudices. Using "unbiased" suggests that a person or entity is free from any inclination or tendency to favor one side or party over another.
How is someone impartial?
Someone can be impartial by demonstrating certain qualities and behaviors that reflect fairness, neutrality, and an absence of bias.
What is an impartial feeling?
The term "impartial feeling" is not commonly used, as the concept of impartiality is typically associated with actions, judgments, or decisions rather than feelings. However, if we consider the term metaphorically, an "impartial feeling" could refer to a state of emotional neutrality or a lack of personal bias or prejudice influencing one's emotional response.
Related