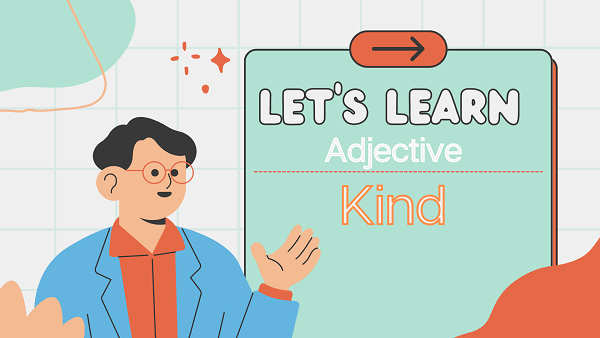 Casting Light on The Word 'Kind'
Definition
"Kind" is an adjective that describes someone or something as having a gentle, caring, and considerate nature. It signifies a willingness to help, show empathy, and treat others with compassion.
Positive Attribute
Being kind is often seen as a positive character trait. It involves showing genuine concern for the well-being of others, being generous, and displaying acts of goodwill.
Empathy and Understanding
Kind individuals demonstrate empathy and understanding by putting themselves in others' shoes and considering their feelings and needs. They often exhibit a willingness to offer support and assistance.
Acts of Kindness
Kindness is expressed through various acts, such as offering help, giving compliments, showing respect, listening attentively, and being supportive in times of need.
Impact on Relationships
Kindness plays a crucial role in building and maintaining positive relationships. It fosters trust, creates a sense of safety and belonging, and strengthens emotional bonds.
Kindness to Oneself
Kindness is not limited to how one treats others but also extends to self-care and self-compassion. It involves being gentle and understanding with oneself, practicing self-care, and acknowledging personal needs and emotions.
Synonyms
Synonyms for "kind" include "compassionate," "considerate," "generous," "caring," "benevolent," and "thoughtful." These words convey a similar sense of warmth, empathy, and goodwill.
Antonyms
Antonyms for "kind" include "cruel," "unkind," "mean," "selfish," and "inconsiderate." These words describe behaviors or attitudes that are contrary to kindness.
Kindness in Society
Kindness is valued in many societies and cultures. It promotes positive social interactions, community well-being, and a sense of shared humanity.
Teachable Trait
Kindness can be cultivated and nurtured through practice. Small acts of kindness can have a significant impact on individuals and society as a whole, promoting a culture of compassion and empathy.
FAQs(Frequently Asked Questions)
What is the meaning of a kind person?
A kind person is someone who displays a gentle, caring, and considerate nature. They show empathy, offer support, and treat others with compassion, making a positive impact on those around them.
What is the other term of kind?
Another term for "kind" is "generous," which emphasizes the willingness to give, help, and show consideration for others. It signifies a selfless and giving nature.
What are 5 synonyms for kind?
Five synonyms for "kind" are "compassionate," "benevolent," "thoughtful," "considerate," and "gentle." These words convey a similar sense of empathy, caring, and goodwill toward others.
Related