10 Major Truths About The Life That No One Wants to Admit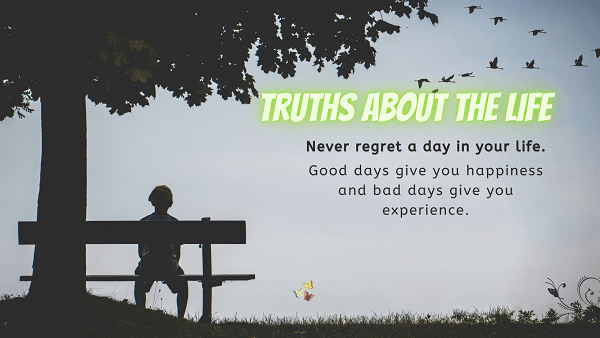 Time is a very valuable asset in your life because it never comes back. So you need to manage the time and how you spend it. This is very easy to talk about the weather, sports, and famous people than the fear of your mortality. Time is among the main truths of life.
Unluckilymore time that you spend pretending that ultimate truths do not exist, do not use to correct or identify yourself. Here are the 10 brutal truths about life that every single person needs to hear very carefully.
1. One Day You Will Die And You Do Not Know When Will It Happen
The first ever major truth of life is that one day we will die. We will not live forever. One day all of us will finish. So stop thinking that you are invincible. It is the truth about life that never lies.
2. Every Person That You Love Is Going To Die
This is another hard truth about life nothing will exist forever. So we learn that we should build a positive relationship and should not give importance to past conflicts.
3. Your Financial Wealth Would Not Make You a Happier Person
Even if you are a lucky person you achieve your goals in life and become a wealthy person who can buy everything. But unfortunately, you can not buy one thing and that is happiness. So, It is among the truths about life that financial wealth can not give you happiness.
4. Your Passion Of Finding Happiness Is What That Prevents Your Attainment
Happiness is a thing that is always present in your life. The only thing is to connect to it and allow it to flow with you and that is a very difficult thing. You can say harsh facts about life.
5. Time Donation Is More Important Than Money
Giving your time is a very easy way to change your perception and make a memory for yourself that will exist forever.
6. You Can Not Satisfy Everyone
First of all, stop trying to please, and start giving respect to yourself and giving values, and setting principles.
7.  Perfection Not Possible
Many people think that they can be perfect people but the truth of life is that it is not possible. If you are working on yourself you'll become good at anything but not perfect. So start realizing the reality. It is the uncomfortable truth about life.
8.  Start Inspiring People Because Your Words Are Important
Expressions have the power to hurt, oppress, and shame. Words have the power to liberate and inspire start using them more wisely. You feel confident about yourself or interested to learn or do something. It is the real truth of life.
9. Invest in Yourself! The Most Valuable Object You Can Do.
Put your energy into money and time to improve your current and future life. Rather focusing on things that will not increase your wealth in the long term. Make your life better and expand your knowledge. It is the biggest truth of life.
10. The Most Valuable Asset of Your Life is Tim, So Prioritize How You Spend It
It is on you how to manage time, to decide what you do with the responsibility you have, so choose wisely. So, you have the power to increase your productivity, meet your deadlines, and better manage your time.
Brutal truths of life that every single person needs to hear:
One day you're going to die and you have no idea when it happen, everyone, you love is going to die, and you don't know when, your wealth won't make you a better or happier person, and your enthusiasm for finding happiness is what prevents its attainment.
You may also search for The 7 Habits of Highly Effective People