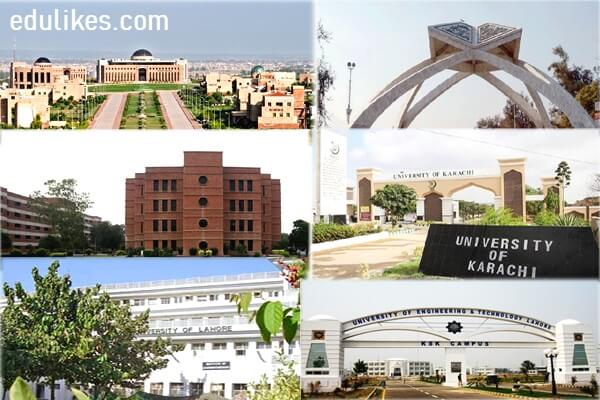 1. University of Punjab, Lahore
It was established in Lahore in 1882. The University of Punjab is among the biggest Top Universities in Pakistan and the oldest seat of advanced learning in Pakistan.
It was first established in the sub-continent in a Muslim-majority area. It was ranked first among large-sized multiple-faculty universities by the HEC in 2012.
The university has  02 Nobel Laureates among the university alumni and former staff. The university has five campuses, 08 Constituent Colleges, Nineteen Faculties, and 138+ centers, departments, and institutes.
The University of Punjab also comprises 658 affiliated colleges. There are 45,678 students (Nearly 27,907-morning students and 16,552 evening students). It also has 1,219 diploma students.
The main campus comprises 13 Faculties, 83 Academic Departments, Research Centers, and institutes.
2. COMSATS Institute of Information Technology
COMSATS Institute of Information Technology was established in Islamabad (CUI) in 1998. It is a multi-campus university with its principal seat placed in Islamabad. It was envisioned as Pakistan's first elite Institute of Information Technology.
Nationally (CUI) is ranked top-most in Computer Sciences and IT category. It was a project of the Commission on Science and Technology for Sustainable Development in the South (COMSATS). Representatives from 36 countries attended.
It comprises 07 physical campuses, 06 Faculties, 103 Academic Campuses, 22 Academic Departments, and 08 Research Centers. COMSATS Institute of Information Technology has 90,000 Graduates and 675 PhDs.
The main campus has 1,100 Ph.D. Faculties and Academic Managers. It also has 480 international students from 23 countries.
3. University of Agriculture (UAF), Faisalabad
The University of Agriculture is a university in the city of Faisalabad, Pakistan.
The university was established in 1906 as the first main institution of higher agricultural education in the undivided Punjab. There are 07 Faculties, 09 Institutes, and 03 Sub-Campuses. This University is among the Top Universities in Pakistan
The UAF offers undergraduate and graduate degrees in a range of subject areas:
Agriculture
Veterinary Medicine
Food Science and Technology
Microbiology
Animal Sciences
Dairy Sciences
Agricultural Engineering
Environmental Engineering
Energy System Engineering
Food Engineering
Textile Technology
Home Economics
Information Technology
Computer Science
Software Engineering
Bioinformatics
Chemistry
Bio-Chemistry
Botany
Physics
Zoology
Bachelor of Business Administration
Doctor of Pharmacy (D.Pharma)
B.Sc.(Hons) Human Nutrition and Dietetics
B.Sc.(Hons) Agriculture and Resource Economics
BS Agricultural Biotechnology
4. University of Peshawar
The University of Peshawar is the 2nd top-ranked mother educational institution of Khyber Pakhtunkhwa. The first Prime Minister of Pakistan Shaheed-e-Millat Liaqat Ali Khan, On 30th October 1950, laid the foundation stone of the University of Peshawar.
The University offers higher programs for undergraduate, post-graduate, and doctoral studies. There are 14,000 enrolled students attending the university.
It has 06 Academic Faculties, 40 postgraduate departments as well as two "Centers of Excellence". The University of Peshawar is known for its research in Medical, Social, and Natural Sciences. It also has 08 research centers inside the main campus.
5. Aga Khan University (AKU), Karachi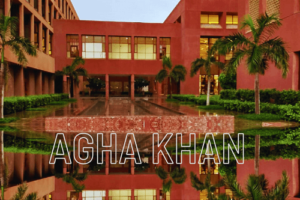 It was founded in 1983 as Pakistan's first non-profit private university. The AKU has campuses in Tanzania, Kenya, Uganda, Afghanistan, and the United Kingdom.
​Aga Khan University is known as health-sciences University. It is the largest private healthcare provider in Pakistan and East Africa.
It offers admission to Undergraduates Programmes, Graduates Programmes, and Doctoral Programmes. So, you can get an education from the Top Universities in Pakistan.
It has the following Academic Programmes:
School of Nursing and Midwifery
Institute for Educational Development
Faculty of Arts and Sciences
Medical College
6. Lahore University of Management Sciences (LUMS)
Lahore University of Management Sciences (LUMS) was founded in 1983 by a renowned businessman in Pakistan Syed Babar Ali, as a private research university. It is located in Lahore, Punjab, Pakistan. It is a world-class university that attracts and retains the highest caliber of students and faculties. This university offers 18 undergraduate programs and 24 graduate degrees. LUMS is known for its academic and research excellence. Instedad, it stands out as a high-status institution in the region, and around the world. Thishas 55 student clubs and societies. It gives 100 scholarships to talented students.
7. International Islamic University, Islamabad
It was established in the 15th Hijrah Century, Muharram 1, 1401 (November 11, 1980). It is the symbol of the aspirations and hopes of the Muslim Ummah for an Islamic renaissance. The University presently has nine Faculties and six Autonomous Academies, Institutes, and Centers. It gives admission to 120 Academic Programmes. There are 17,000 students which include approximately 7,000 female students.
Main Faculties
Engineering & Technology
Arabic
Sciences
Computing and Information Technology
Education
International Institute of Islamic Economics
Languages & Literature
8. The University of Lahore (UOL)
The University of Lahore is a private university located in Lahore, Punjab, Pakistan. It was first created at the collegiate level in 1999 under the IBADAT Educational Trust and.  UOL was granted full degree awarding status in 2002. Moreover, The university is one of the largest private universities in Pakistan. UOL awarded degrees in medicine, engineering, arts, and social sciences.
All programs are approved by the Higher Education Commission (HEC) and government regulatory bodies in Pakistan. The University of Lahore is also recognized by the Pakistan Engineering Council (PEC), Pakistan Medical and Dental Council (PMDC), Pakistan Bar Council, Pakistan Nursing Council, and Pharmacy Council of Pakistan.
9. University of Karachi
The University of Karachi was founded by an act of the Pakistan parliament in June 1951. The main campus is spread over 1279 acres of land and situated 12 Km away from the city center. Today it is known as a premier center of learning and research in the Subcontinent and in the Third World. It also has more than 52 Departments and 19 Research Institutes, and Centers. The University is transmitting education to more than 24,000 students including students from foreign countries.
10. Quaid-i-Azam University, Islamabad
Quaid-i-Azam University was founded in July 1967 under the Act of the National Assembly. It started teaching and research programs for Ph.D. and MPhil degrees and later it offer Master's, graduate, and undergraduate programs. The University is famous for its international reputation, faculty, and programs, which attract a large number of foreign students. Additionally, it offers admission to a measured number of students from all regions of the country. Basically, it is a federal public sector university. It comprises 04 Faculties and 09 other teaching and Research Centers, Institutes, and Schools.
You may also search for Top Universities in China