Casting Light on The Word 'Affordable'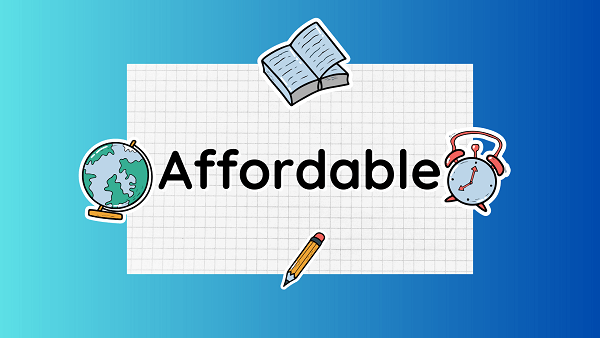 Definition
"Affordable" is an adjective that describes something as reasonably priced or within financial reach. It implies that the cost of the item or service is manageable and can be comfortably paid for by most people.
Synonyms
Some synonyms for "affordable" include inexpensive, reasonably priced, budget-friendly, economical, low-cost, cost-effective, and accessible.
Antonyms
Some antonyms for "affordable" include expensive, costly, overpriced, unaffordable, prohibitive, and high-priced.
Usage
"Affordable" is used to describe a wide range of goods, services, or housing options that are priced in a way that makes them accessible to a larger portion of the population. It is often associated with the notion of affordability in relation to personal income or financial means.
Context
The affordability of an item or service is relative and can vary based on individual or regional circumstances, such as income levels, cost of living, and economic conditions.
Affordability Factors
Several factors contribute to the affordability of a product or service, including production costs, market competition, supply and demand, economies of scale, and pricing strategies.
Affordability and Quality
The concept of affordability is not solely based on price. It often takes into account the balance between price and the perceived value or quality of the item or service.
Affordability in Different Sectors
The term "affordable" can be applied to various sectors, including housing, healthcare, education, transportation, food, clothing, technology, and more. In each sector, it signifies the ability to meet essential needs without causing significant financial strain.
Policy and Social Impact
The concept of affordability is often a consideration in policy-making and social discussions, particularly in areas like housing and healthcare. Governments and organizations strive to create affordable housing options and ensure access to affordable healthcare services for all citizens.
Affordability and Accessibility
Affordability is closely linked to accessibility. When something is affordable, it becomes more accessible to a broader range of individuals, enhancing their ability to participate in economic, social, and cultural opportunities.
Continue To Explore A-Z Words