Casting Light on The Word 'Atheistical'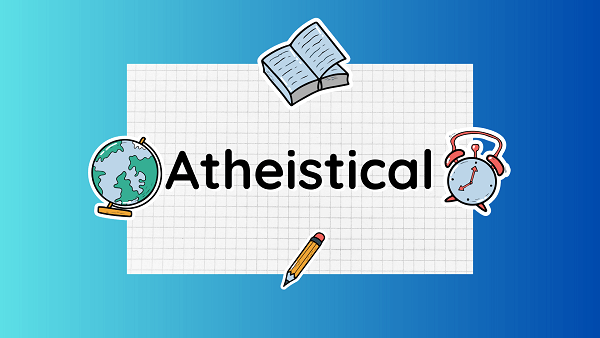 Definition
Atheism is the disbelief or lack of belief in the existence of a god or gods. Atheistical, therefore, describes something or someone that aligns with atheism or exhibits atheistic tendencies.
Atheism vs. Agnosticism
It's important to distinguish between atheism and agnosticism. Atheism asserts disbelief in the existence of gods, while agnosticism holds the position that the existence of gods is unknown or unknowable. Atheistical individuals would typically fall under the atheism category rather than agnosticism.
Historical Background
Atheism and atheistic beliefs have existed throughout human history. There have been notable atheists in ancient civilizations, such as ancient Greece and Rome, as well as in more recent times. Philosophers like Friedrich Nietzsche and Bertrand Russell are well-known figures associated with atheistic thought.
Diversity of Atheistic Beliefs
Atheism is not a monolithic belief system. There are various forms of atheism, including strong atheism (asserting the non-existence of gods), weak atheism (simply lacking belief in gods without actively denying their existence), and secular humanism (emphasizing human reason and ethics without the need for supernatural beliefs).
Non-Belief in Supernatural Entities
Atheistic views reject the existence of any supernatural entities, including gods, goddesses, deities, and other divine beings. Instead, atheists generally seek naturalistic explanations for phenomena and base their understanding of the world on empirical evidence and reason.
Philosophical and Ethical Frameworks
Atheistic individuals often develop their own philosophical and ethical frameworks based on secular humanism, skepticism, rationality, and scientific principles. They may draw on moral values and ethical systems that prioritize human well-being, empathy, and rational decision-making.
Representation in Society
Atheism and atheistic beliefs are present in societies worldwide, but the prevalence and acceptance of atheism can vary significantly from culture to culture. In some countries, atheism is widely accepted and even the majority view, while in others, it may be met with social stigma or even legal restrictions.
Atheism and Religion
Atheism is often contrasted with religious belief systems. While atheism rejects belief in gods, religions encompass a wide range of beliefs and practices, including monotheism, polytheism, and pantheism. It's important to note that atheism is not synonymous with immorality or lack of meaning, as atheists can find purpose, morality, and fulfillment in various aspects of life.
Freedom of Belief
Atheistical beliefs are protected by the principle of freedom of thought, conscience, and religion. Individuals have the right to hold atheistical views and express them, just as individuals have the right to hold religious beliefs or any other philosophical standpoint.
Debates and Discourse
Atheism often sparks debates and discussions about the existence of gods, the nature of belief, the role of religion in society, and related topics. These discussions can involve philosophical, scientific, and ethical arguments from both atheists and proponents of religious beliefs.
Continue To Explore A-Z Words