Casting Light on The Word 'Clumsy'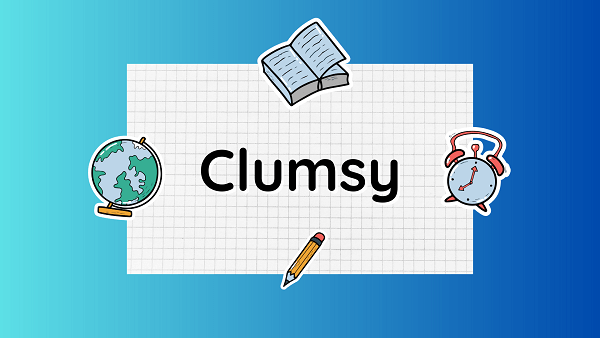 Definition
"Clumsy" is an adjective used to describe someone or something that lacks coordination, is awkward in movement, or has a tendency to be careless or awkward in handling objects.
Physical Coordination
When referring to a person, "clumsy" typically implies a lack of physical coordination or finesse. It suggests a tendency to stumble, trip, or have difficulty performing tasks that require precise movements.
Accidental Mishaps
The term "clumsy" can also describe someone who frequently experiences accidental mishaps or tends to knock things over, drop objects, or bump into things unintentionally.
Lack of Dexterity
Clumsiness often stems from a lack of dexterity or poor motor skills, making it challenging to perform tasks with precision and accuracy.
Spatial Awareness
Clumsy individuals may struggle with spatial awareness, leading to frequent collisions, misjudgments of distance, or difficulty navigating through crowded spaces.
Figurative Usage
"Clumsy" can also be used figuratively to describe actions, behaviors, or processes that lack finesse, efficiency, or grace. For example, a clumsy attempt at resolving a problem may refer to an ineffective or awkward approach.
Synonyms
There are several synonyms for "clumsy" that can be used depending on the specific context or degree of clumsiness. Some alternatives include "awkward," "ungainly," "bumbling," "uncoordinated," or "inept."
Developmental Factors
Clumsiness can be more prevalent during certain stages of development, such as childhood or adolescence, as individuals are still refining their motor skills and coordination.
Impact on Self-confidence
Chronic clumsiness can sometimes affect a person's self-confidence, as they may feel self-conscious or embarrassed about their physical awkwardness.
FAQs(Frequently Asked Questions)
What's the meaning of a clumsy person?
A clumsy person is someone who lacks physical coordination and finesse, often leading to frequent accidents, mishaps, or awkward movements. Being clumsy can manifest in various ways, such as tripping over objects, dropping things, bumping into furniture or people, or struggling with tasks that require precise movements.
What are 2 words for clumsy?
Awkward
This word describes someone who lacks grace or ease in movement, often resulting in clumsy or ungainly actions. It can also refer to social situations where someone feels uncomfortable or unsure of themselves.
Ungainly
This word is used to describe someone or something that lacks grace or elegance in movement or appearance. It suggests a lack of coordination or an overall awkwardness in physical actions.
What does the clumsy girl mean?
The term "clumsy girl" refers to a girl or young woman who exhibits a lack of physical coordination or finesse. It suggests that she often experiences accidents, mishaps, or awkward movements. The term emphasizes her tendency to stumble, trip, drop things, or bump into objects or people unintentionally.
What is an example of clumsiness?
Imagine a person named Sarah who is walking through a crowded room. As she tries to maneuver through the space, she accidentally bumps into a chair, causing it to wobble and almost tip over. In her attempt to steady the chair, she accidentally knocks over a glass of water that was sitting on the table next to it, causing the water to spill onto the floor. She quickly apologizes and tries to clean up the mess but ends up slipping on the wet surface and falling to the ground.