Casting Light on The Word 'Confident'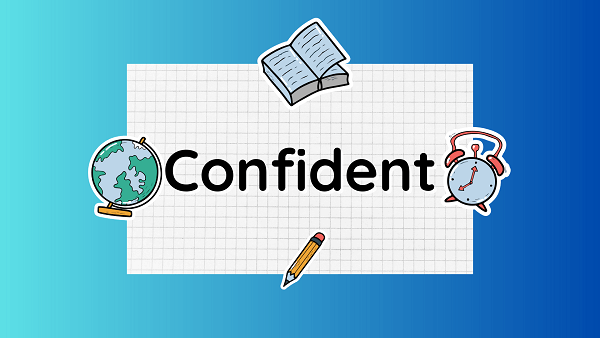 Definition
"Confidence" is an adjective that describes a person's belief in their abilities, qualities, or judgment. It suggests a sense of self-assurance, poise, and belief in one's own competence.
Synonyms

Some synonyms for confident include self-assured, assured, self-confident, bold, secure, assertive, poised, and self-reliant.
Antonyms
Conversely, antonyms of confidence include insecure, unsure, hesitant, timid, self-doubting, and diffident.
Self-Belief
Confidence is often associated with a strong belief in oneself. It is the assurance that one has the knowledge, skills, or qualities necessary to succeed or overcome challenges.
Positive Self-Image
Confidence is closely tied to a positive self-image. Confident individuals have healthy self-esteem and a positive perception of their abilities, worth, and value.
Body Language
Confident individuals often display certain body language cues such as standing tall, maintaining eye contact, and using assertive gestures. These non-verbal signals communicate their self-assuredness to others.
Resilience
Confidence contributes to resilience in the face of setbacks or failures. Confident individuals are more likely to bounce back, learn from their experiences, and persevere in pursuing their goals.
Assertiveness
Confidence is linked to assertiveness, which involves expressing oneself confidently and standing up for one's rights and opinions while respecting others.
Performance and Success
Confidence plays a crucial role in performance and success across various domains. It enhances the ability to take risks, make decisions, and perform at one's best, thereby increasing the likelihood of achieving desired outcomes.
Influence and Leadership
Confident individuals often possess influence and leadership qualities. Their self-assurance inspires others, and they are more likely to take charge, motivate others, and effectively lead teams or initiatives.
FAQs(Frequently Asked Questions)
What does it mean to be confident?
To be confident means to have a strong belief in oneself, one's abilities, and one's worth. It is a state of mind characterized by self-assurance, poise, and a positive self-image.
What is a sentence for confidence?
Here are a few example sentences that showcase the use of the word "confidence":
She walked into the interview with confidence, impressing the panel with her poised demeanor.
After weeks of practice, he performed on stage with confidence, delivering his lines flawlessly.
The team's success is attributed to their shared confidence in each other's abilities.
With renewed confidence, she tackled the challenging project and exceeded expectations.
His confident smile and firm handshake conveyed a sense of self-assurance during the business meeting.
What's a confidant friend?
A confidant friend, sometimes referred to as a confidante, is someone with whom you share a deep level of trust, openness, and confidentiality. A confidant friend is someone you feel comfortable confiding in and sharing your thoughts, feelings, secrets, and concerns without fear of judgment or betrayal.