Iona University was established in 1940 (at that time Iona College) with 09 Christian Brothers and 06 lay faculty greeting the first class. At that time, it was an independent Catholic boy's school administered by the Missionary Oblates of Mary Immaculate.
Its main goal was to open new approaches to economic and social improvement for the sons of New York's working class.  Iona University aims to provide a vibrant Catholic learning community within the Oblate spirit. So that, Iona partners are resilient, faith-filled, fearless, well-balanced, and trained to make a difference.
Where is Iona University?
It was found on a small island in the Inner Hebrides just off the west coast of Scotland. In 563, it is a tiny island where the Irish monk Saint Columba based an abbey from which missionaries went forth to teach and evangelize. Its main campus New Rochelle occupies 45 acres (0.18 km2) in New Rochelle and another campus in Bronxville occupies 28 acres (0.11 km2).
Iona University Overview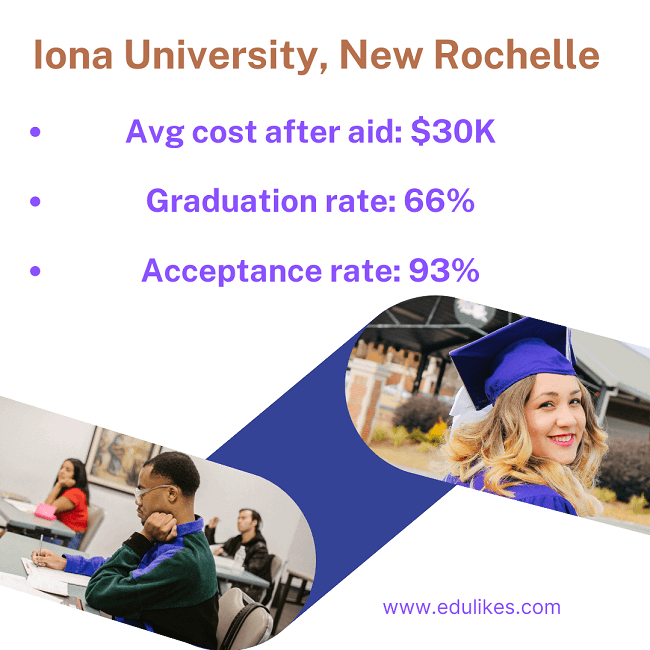 It has 02 campuses in Westchester County: New Rochelle and nearby Bronxville, New York. Located two miles away from Long Island Sound and 20 miles north of Midtown Manhattan.
There are 3,621 total students, 3,032 undergraduate students, and 589 graduate students.
Iona College comprises characteristics of a student body of 809 first-time, 53% female students, 47% male students,36 states and territories represented, Students from 49 countries enrolled, and a six-year graduation rate of 57%.
It offers 40 undergraduate degree programs and about 40 minors, nearly 24 graduate programs through the School of Arts & Science,  NewYork-Presbyterian Iona School of Health Sciences, LaPenta School of Business, and Hynes Institute for Entrepreneurship & Innovation. There are 14 master's degrees, 10 advanced certificate programs, and approximately 50,000 alumni across the World.
There are more than 80 various clubs for students' enjoyment, and organizations. Multiple student groups on campus including 10 club sports teams and an extended performing arts program. Iona University facilitates 1,109 undergraduate students living on campus and 56% of first-year classes living on campus.
The Iona University ranking is 63 in the 2022-2023 edition of Best Colleges is Regional Universities North. The University tuition and fees are $44,328.
The Iona University Acceptance rate is 92.6%.
Iona University GPA requirements:  A GPA of 3.5 or 95%, or better, and students must have an SAT I score of 1300 (MATH/CR) or an ACT score of 29 in order to be considered.
Iona University Athletics developed sports affiliation with NCAA Division I Program with 21 Varsity Teams.
Accreditations
Iona University is a recognized institution by the Middle States Commission on Higher Education. There are several specific programs and units are accredited by specialized accreditors:
The Iona School of Business is recognized for its business program by the Association to Advance Collegiate Schools of Business (AACSB International).
The social work department is accredited by the Council on Social Work Education (CSWE).
Its education department is accredited by the National Council for Accreditation of Teacher Education (NCATE).
Besides, Iona University's marriage and family therapy program is recognized by the Commission on Accreditation for Marriage and Family Therapy Education (COAMFTE). The accrediting body of the American Association for Marriage and Family Therapy (AAMFT).
The psychology school's program is accredited by the National Association of School Psychologists (NASP).
The computer science department is accredited by the Accreditation Board for Engineering and Technology (ABET) for its B.S. in Computer Science.
The chemistry department is accredited by the American Chemical Society (ACS) for its B.S. in chemistry.
The Samuel Rudin Academic Resource Center is accredited by the College Reading and Learning Association (CRLA).
How to Apply for Admission at Iona University?
Online application.
All recognized high school transcripts were translated into English.
International Certifications.
ACT or SAT Scores.
English language proficiency proof (TOEFL, IELTS, iTEP, PTE Academic).
Leaving Certificate or external examination results relevant to your country, such as "A-levels," CXCs, Baccalaureate, or Abitur.
Passport copy.
What are Iona University Tuition and fees?
Iona University Tuition and Fees Schedule 2022-2023:
42,128 USD Tuition & Fees Charges.
2,200 USD Program Fee.
17,740 USD Room and Board Fee.
Total: 62068 USD.
What is Iona College Known For?
It is known for its popular majors in Finance, Marketing, and Communications. This institution graduates 60% of students, and its alumni go on to earn a starting salary of $45,300.