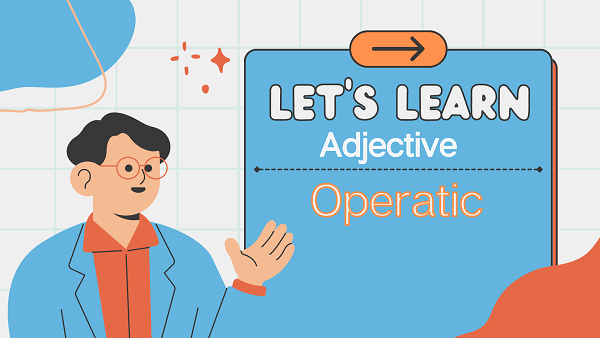 Casting Light on The Word 'Operatic'
Adjective Usage
"Operatic" is an adjective that describes something related to opera, the art form that combines music, singing, acting, and storytelling. It is often used to describe the style, characteristics, or qualities associated with opera.
Opera
An opera is a form of musical theater that originated in the late 16th century and is still performed today. It typically features elaborate singing, orchestral music, and dramatic storytelling, and often includes theatrical sets, costumes, and staging.
Singing Style
"Operatic" can also describe a specific style of singing characterized by powerful vocals, a wide vocal range, and the ability to project the voice over an orchestra without amplification. It often requires extensive vocal training and control.
Dramatic and Theatrical
The term "operatic" is often used to describe something that is grand, dramatic, or larger-than-life, akin to the theatrical and emotional elements found in opera performances.
Usage in Popular Culture
The word "operatic" is sometimes used metaphorically or figuratively to describe situations, events, or performances that exhibit dramatic intensity, extravagance, or a sense of heightened emotions.
Opera Houses
"Operatic" is closely associated with opera houses, which are dedicated venues for staging operas. These theaters are designed to accommodate the specific acoustic and technical requirements of opera performances.
Famous Operas
There are numerous famous operas that have become renowned throughout history, including works by composers such as Mozart, Verdi, Puccini, Wagner, and more. These operas often showcase the operatic style and form.
Opera Singers
"Operatic" is also used to describe singers who specialize in performing opera. These singers undergo extensive vocal training and possess the ability to interpret and convey the emotions and nuances of opera music.
Opera Genres
Within the realm of opera, there are various genres and styles, including tragic opera, comic opera, historical opera, and more.
Cultural Impact
Opera has had a significant cultural impact throughout history and continues to be appreciated and performed worldwide. It has inspired countless composers, musicians, and performers, and remains an important part of the performing arts tradition.
FAQs(Frequently Asked Questions)
What is the definition of an operatic?
"Operatic" is an adjective that describes something relating to opera or resembling the style, grandeur, or dramatic intensity of opera. It refers to the characteristics, qualities, or elements associated with opera, including the singing style, theatricality, and emotional depth. The term can be applied to performances, music, singing voices, or any artistic expression that embodies the essence of opera.
What is a synonym for operatic?
A synonym for "operatic" is "dramatic," as both terms convey a sense of intensity, theatricality, and emotional depth. Additionally, "theatrical" and "grandiose" can also be used as synonyms for "operatic," describing something that is extravagant, larger-than-life, or characterized by the dramatic elements often associated with opera.
What is opera mean in literature?
In literature, "opera" refers to a genre of storytelling that combines music, singing, and dramatic performance. It involves the integration of theatrical elements, including dialogue, stage design, and character portrayal, with musical compositions. Operas in literature are often written in libretto form, where the text is specifically crafted to be sung and performed by opera singers.
Related