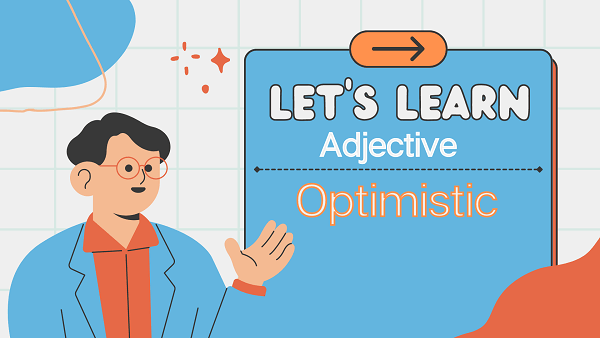 Casting Light on The Word 'Optimistic'
Adjective Usage
"Optimistic" is an adjective that describes a positive mindset or outlook characterized by hope, confidence, and a belief in favorable outcomes. It refers to the tendency to focus on the brighter side of situations and anticipate positive results.
Positive Attitude
Optimistic individuals tend to approach life with a positive attitude and expect favorable outcomes even in challenging circumstances. They believe in the potential for success, growth, and improvement.
Antonym
The opposite of "optimistic" is "pessimistic," which describes a tendency to expect negative outcomes, anticipate problems, or focus on the downside of situations.
Resilience
Optimistic people often display resilience in the face of adversity. They maintain a hopeful attitude, seek solutions, and bounce back from setbacks more effectively.
Health Benefits
Studies have shown that optimism is associated with numerous health benefits, including lower stress levels, improved coping skills, better mental well-being, and even enhanced physical health.
Motivation and Goal-setting
Optimistic individuals are often motivated to set and pursue goals. They believe in their ability to achieve success and are more likely to persevere, take risks, and maintain a positive mindset during the pursuit of their goals.
Cultivating Optimism
While optimism can be an inherent personality trait for some, it can also be cultivated and developed through various strategies, such as positive self-talk, reframing negative thoughts, practicing gratitude, and surrounding oneself with positive influences.
Impact on Relationships
Optimism can positively impact relationships by fostering resilience, empathy, and a supportive attitude. It can contribute to healthier and more fulfilling interpersonal connections.
Optimism in Society
Optimistic individuals and societies often contribute to a positive and constructive social environment. They tend to foster cooperation, problem-solving, and a belief in progress and positive change.
FAQs(Frequently Asked Questions)
What is being an optimistic person?
Being an optimistic person means having a positive outlook on life, expecting favorable outcomes, and maintaining a hopeful attitude. Optimistic individuals tend to focus on the potential for success, growth, and happiness, even in the face of challenges or setbacks. They believe in their own abilities and the possibility of positive change.
Is optimism a personality?
Yes, optimism is often considered a personality trait that influences how individuals perceive and respond to events and situations. It reflects a person's general tendency to have a positive outlook, expect positive outcomes, and maintain a hopeful attitude. However, it can also be developed and cultivated through various strategies and mindset shifts.
Is optimism a positive quality?
Yes, optimism is generally considered a positive quality as it promotes a positive mindset, resilience, and a hopeful attitude. It can lead to greater motivation, improved well-being, and better coping skills in the face of challenges. However, it's important to strike a balance and not dismiss or ignore realistic concerns or potential obstacles.
What does optimism mean?
Optimism refers to a mindset or attitude characterized by positive expectations, hopefulness, and a belief in favorable outcomes. It involves seeing the bright side of situations, maintaining confidence in one's abilities, and anticipating positive results. Optimism can contribute to increased motivation, resilience, and overall well-being.
Related