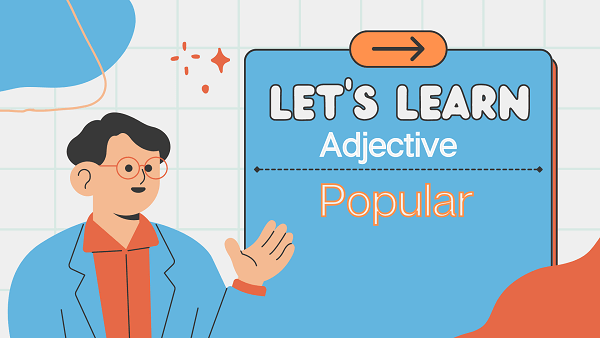 Casting Light on The Word 'Popular'
Definition
"Popular" is an adjective that describes something or someone that is liked, admired, or favored by a large number of people. It refers to the general acceptance, recognition, or approval of something within a community, society, or a particular group.
Meaning
When something is popular, it indicates that it has gained a significant level of attention, appeal, or interest from a wide range of individuals. Popularity often implies that the subject is well-known, widely discussed, or frequently chosen or consumed by people.
Synonyms
Well-liked
Favored
Admired
Beloved
In-demand
Trendy
Fashionable
Celebrated
Reputed
Preferred
Antonyms
Unpopular
Disliked
Ignored
Unfavored
Hated
Detested
Unappealing
Unfashionable
Neglected
Unrecognized
Importance of popularity
Social Influence
Popularity plays a significant role in shaping opinions, trends, and behaviors within a society. It can impact people's choices, preferences, and actions, as individuals often seek validation and acceptance from their peers or society as a whole.
Cultural Impact
Popularity helps define the cultural landscape by influencing the creation and consumption of various forms of entertainment, art, music, fashion, and other aspects of popular culture. It reflects the collective tastes and interests of a community or society.
Business and Marketing
Popularity directly affects the success of products, services, and brands. Being popular often translates into increased sales, wider customer base, and greater market share. It is a key factor in building brand recognition and customer loyalty.
Social Integration
Popularity can facilitate social connections and foster a sense of belonging. Popular individuals often have a wider network of relationships, are invited to social events, and are considered influential in their communities. This integration can lead to opportunities, support systems, and positive experiences.
FAQs(Frequently Asked Questions)
Can popularity be measured objectively?
While popularity is often measured by indicators such as sales figures, viewership, social media metrics, or public opinion polls, it can still be subjective to some extent. Different methods and criteria can be used to gauge popularity, but the perception of popularity can vary among individuals and communities.
Is popularity always a positive thing?
Popularity can have both positive and negative implications. While being popular can bring benefits like social recognition, opportunities, and influence, it can also lead to pressures, expectations, and a loss of privacy. Additionally, popularity doesn't necessarily imply value or quality; something can be popular but not necessarily good or worthwhile.
Can popularity change over time?
Yes, popularity is often subject to change. Trends, interests, and societal preferences evolve, and what was once popular may become less relevant or be replaced by something new. The dynamics of popularity can shift due to cultural shifts, emerging technologies, changing demographics, or the influence of influential individuals.
Continue To Explore A-Z Words