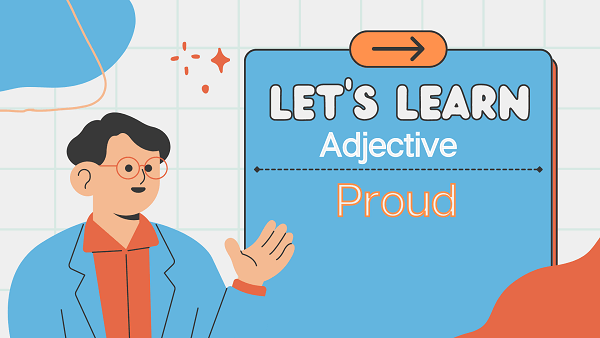 Casting Light on The Word 'Proud'
Definition
"Proud" is an adjective that describes a feeling of deep satisfaction, pleasure, or contentment in one's achievements, abilities, or qualities. It denotes a sense of self-respect, dignity, and a positive evaluation of oneself or something associated with oneself.
Meaning
When someone feels proud, it signifies a sense of accomplishment, confidence, or fulfillment. It can be related to personal achievements, a sense of belonging to a group, or pride in one's cultural, national, or individual identity.
Synonyms
Self-satisfied
Contented
Gratified
Pleased
Fulfilled
Accomplished
Esteemed
Honored
Glorified
Triumphant
Antonyms
Humble
Modest
Humiliated
Ashamed
Insecure
Inferior
Embarrassed
Submissive
Meek
Unassuming
Importance of pride
Self-Confidence
Feeling proud of one's accomplishments, skills, or personal qualities can contribute to a healthy sense of self-esteem and self-worth. It helps build confidence, resilience, and a positive self-image.
Motivation and Drive
Pride can serve as a motivator, encouraging individuals to strive for excellence, overcome challenges, and pursue their goals. It can provide a sense of purpose and fulfillment in one's endeavors.
Personal and Cultural Identity
Pride plays a crucial role in shaping personal and cultural identities. It fosters a sense of belonging, heritage, and collective achievements, contributing to the preservation and celebration of diverse identities.
Recognition and Appreciation
Expressing pride in others' achievements or qualities can strengthen relationships, encourage mutual support, and create a positive and encouraging environment. It acknowledges and values the efforts and successes of individuals and communities.
FAQs(Frequently Asked Questions)
Can pride be considered a negative trait?
While pride can be a positive and empowering emotion, it can turn negative when it becomes excessive or arrogant. When pride leads to an inflated sense of superiority, belittlement of others, or an unwillingness to accept criticism, it can be detrimental to relationships and personal growth.
Is it important to express pride in oneself or others?
Expressing pride in oneself or others can be beneficial. It promotes self-acceptance, boosts confidence, and encourages the development of a positive self-image. Additionally, expressing pride in others' accomplishments or qualities can foster a supportive and encouraging environment.
Can pride be a barrier to personal growth?
Pride can potentially hinder personal growth if it prevents individuals from acknowledging their limitations, seeking help, or learning from mistakes. An excessive sense of pride may lead to resistance to change, defensiveness, or an unwillingness to consider alternative perspectives.
How can one strike a balance between pride and humility?
Striking a balance between pride and humility involves recognizing and appreciating one's achievements and qualities without diminishing the value or accomplishments of others. It means acknowledging strengths while remaining open to learning, growth, and the contributions of others. Balancing pride and humility requires self-awareness, empathy, and a willingness to embrace humility as a virtue.
Continue To Explore A-Z Words