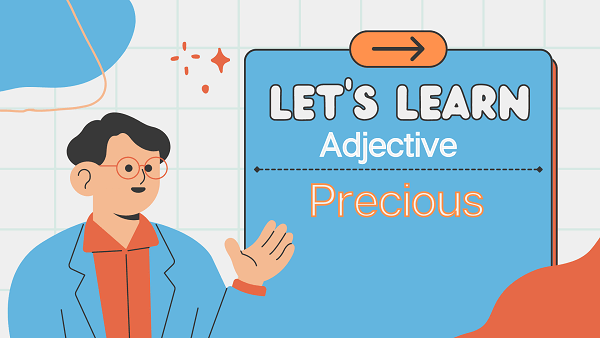 Casting Light on The Word 'Precious'
Definition
"Precious" is an adjective that describes something that is highly valuable, cherished, or esteemed due to its rarity, beauty, sentimental significance, or intrinsic worth. It refers to something that is considered extremely valuable or important and is often treated with great care and attention.
Meaning
When something is described as precious, it indicates that it holds significant worth, whether it be material, emotional, or symbolic. It can refer to objects, relationships, moments, or qualities that are considered unique, irreplaceable, or deeply meaningful.
Synonyms
Valuable
Priceless
Treasured
Beloved
Irreplaceable
Rare
Special
Esteemed
Adored
Revered
Antonyms
Worthless
Insignificant
Common
Disposable
Unimportant
Ordinary
Unvalued
Neglected
Abundant
Rejected
Importance of preciousness
Emotional Significance
Precious things often hold deep emotional value, representing cherished memories, meaningful relationships, or personal milestones. They evoke positive emotions, connection, and a sense of nostalgia.
Value and Rarity
Precious items are typically scarce, unique, or possess qualities that make them stand out. Their rarity or distinctiveness contributes to their value and desirability.
Preservation and Care
Precious things are often treated with special care and attention. They are protected, maintained, and sometimes passed down through generations, highlighting their importance and the desire to preserve their integrity.
Symbolic Representation
Precious objects or qualities can symbolize important ideals, beliefs, or cultural values. They serve as reminders of what is treasured and revered within a society or an individual's life.
FAQs(Frequently Asked Questions)
Can something be considered precious to one person but not to others?
Yes, the perception of what is considered precious can vary from person to person. Different individuals may attribute value and importance to different things based on their personal experiences, emotions, and perspectives.
Are all precious things material in nature?
No, preciousness is not limited to material possessions. While precious objects are often tangible, preciousness can also be associated with intangible qualities such as love, trust, time, or experiences. These non-material aspects can hold immense value and significance to individuals.
Can something lose its preciousness over time?
The perception of preciousness can change over time. External factors, personal growth, or shifts in circumstances can alter how something is valued or cherished. Additionally, the passage of time itself can impact the rarity or condition of a material object, potentially affecting its perceived preciousness.
Can something be replaced if it is considered precious?
Precious things are often considered unique or irreplaceable. While material objects may be replaced with similar items, their sentimental or symbolic value cannot be replicated. However, the meaning or significance associated with a precious item can be transferred to something else, allowing for the preservation of the emotional or symbolic connection.
Continue To Explore A-Z Words