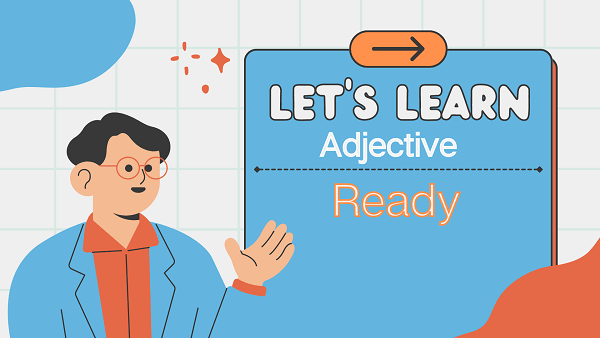 Casting Light on The Word 'Ready'
Definition
The term "ready" is an adjective that describes something or someone as being prepared, available, or willing to act or be used. It indicates a state of readiness or being fully equipped to handle a particular situation or task.
Meaning
Prepared
Preparedness
Available
Willing
Equipped
Set
Organized
Receptive
Prompt
Synonyms
Prepared
Set
Available
Willing
Receptive
Organized
Equipped
All set
Primed
Prompt
Antonyms
Unprepared
Unwilling
Incomplete
Unavailable
Reluctant
Inadequate
Unfinished
Not ready
Delayed
Unorganized
Importance of Ready
Efficiency: Being ready for a task or situation allows individuals and organizations to act promptly and efficiently, saving time and resources.
Opportunity: Preparedness ensures that one can seize opportunities when they arise, maximizing chances of success.
Productivity: Being ready to work or engage in activities enhances productivity and reduces unnecessary delays.
Confidence: Preparedness instills confidence in individuals, as they know they can handle challenges effectively.
FAQs(Frequently Asked Questions)
How can one improve readiness in various aspects of life?
Improving readiness involves proactive planning, setting goals, organizing resources, and staying updated with relevant information. Developing time-management skills and maintaining a positive mindset can also contribute to readiness.
What are some common situations that require being "ready"?
Being ready is crucial in various situations, such as interviews, exams, emergencies, public speaking, and business opportunities. It is also essential for athletes before competitions and for travelers before a trip.
How does readiness impact decision-making?
Readiness can positively influence decision-making by allowing individuals to make informed choices promptly. When prepared, people can consider alternatives, assess risks, and act decisively, leading to better outcomes.
Is being "ready" always advantageous?
While readiness is generally beneficial, there can be situations where over-preparedness may lead to unnecessary stress or micromanagement. Striking a balance between being prepared and adaptable is essential for optimal outcomes.
Continue To Explore A-Z Words