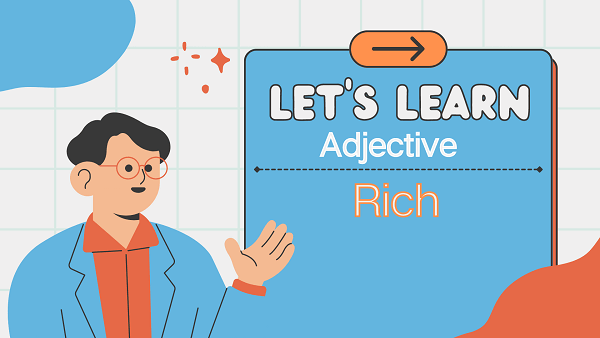 Casting Light on The Word 'Rich'
Definition
"Rich" is an adjective used to describe someone or something having a significant amount of wealth, abundance, or resources. It can refer to monetary riches or being abundant in qualities, experiences, or opportunities.
Meaning
When someone or something is considered rich, it indicates prosperity, opulence, or abundance in a particular context.
Synonyms
Wealthy
Affluent
Prosperous
Well-off
Well-to-do
Loaded
Well-heeled
Well-endowed
Antonyms
Poor
Impoverished
Needy
Destitute
Penniless
Insolvent
Deprived
Bare
Importance of Rich
The concept of being rich holds different importance in various contexts:
Financial Security
Being rich in terms of wealth and assets can provide financial security, enabling individuals to meet their needs and pursue opportunities without significant financial constraints.
Quality of Life
Having abundant resources can lead to an improved quality of life, access to better healthcare, education, and experiences that enhance well-being.
Opportunities
Richness, whether in terms of wealth or experiences, can open doors to various opportunities, networking, and influential connections.
Philanthropy and Giving
Rich individuals and organizations have the capacity to engage in philanthropic activities, supporting charitable causes and making a positive impact on society.
FAQs(Frequently Asked Questions)
Can richness be measured solely by financial wealth?
No, richness can encompass various aspects, including material wealth, but also experiences, knowledge, and meaningful relationships.
How can I improve my financial richness or wealth?
Improving financial richness often involves proper financial planning, budgeting, investing, and making wise financial decisions over time.
Can richness be temporary, or is it a permanent state?
Richness can be temporary or subject to change based on economic conditions, life circumstances, or financial decisions. It is not necessarily a permanent state.
Does richness always guarantee happiness?
While financial richness can provide comfort and opportunities, true happiness also depends on other factors such as personal relationships, purpose, and overall well-being.
Continue To Explore A-Z Words