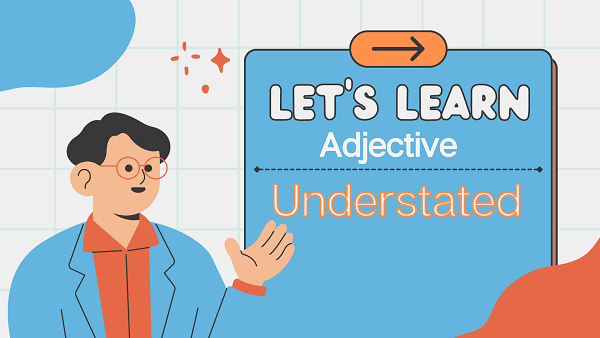 Casting Light on The Word 'Understated'
Definition and Meaning
It implies that the thing being described is not overly emphasized or exaggerated, but rather conveyed with simplicity and subtlety.
Example
Her understated elegance and simple yet sophisticated attire drew everyone's attention at the event.
Synonyms
subdued
modest
unpretentious
reserved
low-key
subtle
muted
restrained
quiet
simple.
Antonyms
extravagant
flamboyant
exaggerated
ostentatious
showy
loud
dramatic
flashy
elaborate.
Importance of Understated
The term "understated" holds significance in various contexts, particularly in areas where a minimalist or subtle approach is valued. In design, an understated style can create a sense of sophistication and elegance. In communication, it can convey a sense of humility and authenticity. Embracing understatement can also avoid appearing overly boastful or extravagant, making it an important aspect of social interactions and self-presentation.
FAQs(Frequently Asked Questions)
Why is an understated design often considered elegant and sophisticated?
The understated design is often considered elegant and sophisticated because it relies on simplicity and minimalism to create a refined aesthetic. By using subtle elements and avoiding excessive ornamentation, it allows the beauty of the design to shine through in a more subtle and nuanced way, evoking a sense of timeless appeal.
How can understated communication improve interpersonal relationships?
Understated communication can improve interpersonal relationships by promoting humility and authenticity. When people express themselves in a restrained manner, it can create a more genuine and approachable atmosphere. It also allows others to feel comfortable and less overwhelmed in conversations, fostering a deeper connection and understanding.
In what ways can understated leadership be effective in professional settings?
Understated leadership can be effective in professional settings because it emphasizes leading by example and humility. Leaders who practice understatement are less likely to seek attention or credit for themselves but instead focus on the success of their team. This approach can build trust and loyalty among team members and create a collaborative and positive work environment.
Why is it important for public figures or celebrities to use understatement in their public image?
Public figures and celebrities often use understatement in their public image to appear relatable and genuine to their audience. By not flaunting excessive wealth or success, they can connect with a broader range of people. Understated public personas also help protect individuals from appearing arrogant or out of touch, which can enhance their public appeal and reputation.
Continue To Explore A-Z Words