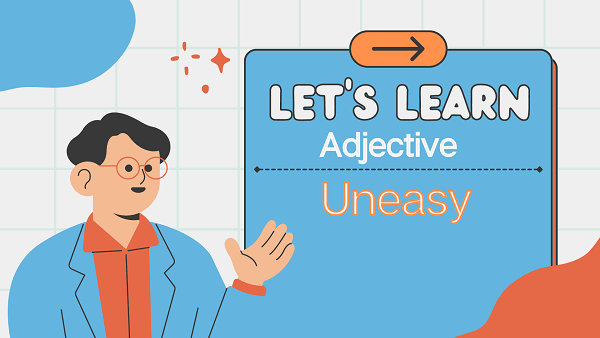 Casting Light on The Word 'Uneasy'
Definition and Meaning:
"Uneasy" is an adjective used to describe a state of discomfort, restlessness, or anxiety. It refers to a feeling of unease, being unsettled, or lacking peace of mind.
Example
The constant thunder and lightning outside made the children feel uneasy and scared.
Synonyms
anxious
apprehensive
restless
tense
nervous
unsettled
troubled
edgy
agitated
uncomfortable.
Antonyms
calm
relaxed,
composed
tranquil
at ease
comfortable
serene
peaceful
undisturbed.
Importance of Uneasy
The term "uneasy" holds significance in understanding emotional and psychological states. Recognizing feelings of unease is essential as it may indicate underlying issues or stressors that require attention. Understanding and addressing these emotions can lead to personal growth, improved mental well-being, and better communication in relationships.
FAQs(Frequently Asked Questions)
Why is it important to acknowledge and address feelings of uneasiness?
Acknowledging and addressing feelings of uneasiness is crucial for maintaining emotional well-being. Ignoring or suppressing these feelings can lead to increased stress, anxiety, and even physical health issues. By acknowledging and understanding the source of unease, individuals can take steps to address it and find healthier coping mechanisms.
How can recognizing signs of uneasiness in others improve interpersonal relationships?
Recognizing signs of uneasiness in others can lead to more empathetic and supportive interactions. If someone appears tense or troubled, acknowledging their feelings and offering a listening ear can help them feel understood and less alone in their struggles. This empathy can strengthen relationships and foster a sense of trust and closeness.
What role does uneasiness play in decision-making processes?
Uneasiness can influence decision-making processes by acting as an internal warning signal. When feeling uneasy about a particular option or choice, it may indicate underlying doubts or potential risks. Paying attention to these feelings can prompt individuals to reevaluate their decisions and consider alternative approaches.
How can addressing feelings of unease positively impact personal growth and self-awareness?
Addressing feelings of unease encourages self-reflection and introspection. By understanding the root causes of uneasiness, individuals can identify areas for personal growth and self-improvement. This process of self-awareness allows for the development of coping strategies and resilience, leading to enhanced emotional intelligence and overall well-being.
Continue To Explore A-Z Words