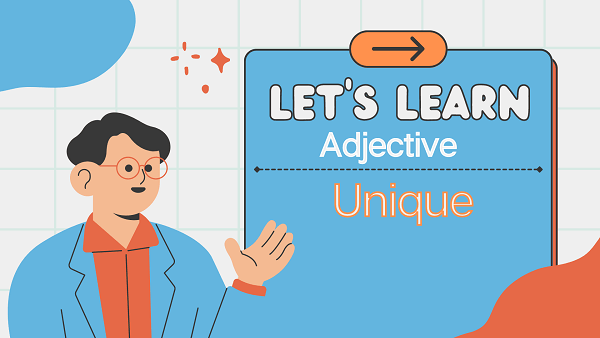 Casting Light on The Word 'Unique'
Definition and Meaning:
"Unique" is an adjective used to describe something that is one of a kind, unparalleled, or singular. It refers to things or individuals that are distinct, unusual, and not like anything else.
Example
Her artwork showcased a unique blend of colors and styles, setting it apart from traditional paintings.
Synonyms
distinctive
special
individual
rare
exceptional
uncommon
original
exclusive
unparalleled
singular.
Antonyms
common
ordinary
typical
familiar
usual
standard
conventional
generic
commonplace.
Importance of Unique
The term "unique" is of great importance as it highlights the value of individuality and diversity. Recognizing and appreciating uniqueness encourages creativity, innovation, and the celebration of personal differences. Embracing what makes each person or thing unique fosters a deeper understanding and acceptance of diversity in various aspects of life.
FAQs(Frequently Asked Questions)
Why is it important to recognize and appreciate the uniqueness of individuals?
Recognizing and appreciating the uniqueness of individuals promotes inclusivity and empathy. Each person's unique qualities, experiences, and perspectives contribute to the richness of society. By valuing and respecting individual differences, we create a more compassionate and harmonious community where everyone feels accepted and valued for who they are.
How does the concept of uniqueness contribute to innovation and creativity?
The concept of uniqueness drives innovation and creativity by encouraging individuals to explore their distinct ideas and perspectives. Embracing uniqueness allows people to break away from conventional norms and create novel solutions to problems. Diverse and unique perspectives foster a culture of creativity that leads to groundbreaking discoveries and advancements.
In what ways can businesses benefit from offering unique products or services?
Businesses can benefit significantly from offering unique products or services as it helps them stand out in the market. Uniqueness attracts the attention of consumers who are looking for something different and special. It can create a competitive advantage, build brand loyalty, and attract a niche audience that appreciates the distinctiveness of the offerings.
How does valuing uniqueness impact personal growth and self-esteem?
Valuing uniqueness is essential for personal growth and self-esteem. Recognizing and embracing one's individuality can boost self-confidence and foster a positive self-image. It encourages individuals to explore their strengths, talents, and passions, leading to a sense of fulfillment and purpose in life. Embracing uniqueness also helps people overcome feelings of insecurity and comparison to others.
Continue To Explore A-Z Words