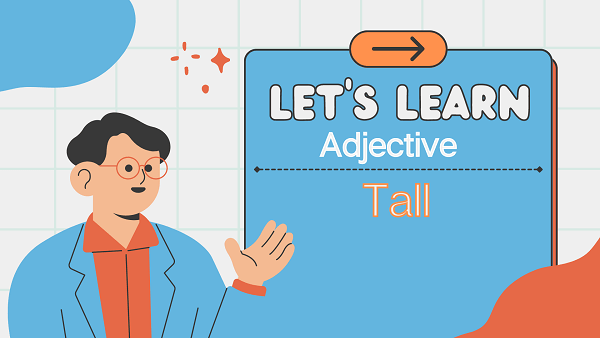 Casting Light on The Word 'Tall'
Definition
"Tall" is an adjective used to describe the vertical height or stature of a person, object, or structure. It signifies being of greater height than average or the norm.
Meaning
When someone or something is described as "tall," it suggests that they have a considerable height or are above average in terms of their vertical measurement.
Synonyms
High
Elevated
Lofty
Giant
Gigantic
Towering
Statured
Giant-sized
Long
Grand
Antonyms
Short
Low
Small
Tiny
Lowly
Lilliputian
Stumpy
Squat
Compact
Diminutive
Importance of Tall
The concept of "tall" holds significance in various aspects of life, including:
Ergonomics and Architecture
In design and construction, knowing the height of objects and structures is crucial to ensure comfort, accessibility, and safety for users. Properly proportioned spaces and buildings contribute to better functionality and aesthetics.
Clothing and Fashion Industry
Understanding the heights of individuals is essential for creating well-fitting clothing and accessories. Tailoring clothes based on height ensures customer satisfaction and comfort.
Sports and Athletics
In many sports, height can play a significant role in determining advantages or disadvantages for athletes. For instance, basketball players with greater height often have an edge in rebounding and shot-blocking.
Health and Development
Height can be an indicator of a person's growth and development, especially in children. Tracking height milestones is essential for assessing overall health and potential growth issues.
FAQs(Frequently Asked Questions)
What is considered "tall" for a person?
The perception of "tall" varies across cultures and regions. Generally, a person is considered tall if their height exceeds the average height for their demographic group. For instance, in some countries, a height above 6 feet (183 cm) for males and 5 feet 6 inches (168 cm) for females might be considered tall.
Is being tall an advantage in sports?
In certain sports, being tall can provide advantages, such as basketball, volleyball, and high jump, where height can influence performance. However, sports also require various other skills, so being tall is not a guarantee of success in every athletic discipline.
Does nutrition influence height?
Yes, proper nutrition plays a crucial role in a person's growth and height potential, especially during childhood and adolescence. A balanced diet with adequate nutrients, including proteins and vitamins, is essential for optimal growth.
Can height be increased after reaching adulthood?
Generally, after puberty and reaching adulthood, the growth plates in the bones close, and further height increase becomes challenging. While some claim to offer height-increasing exercises or supplements, scientific evidence supporting significant height gain in adults is limited.
Continue To Explore A-Z Words