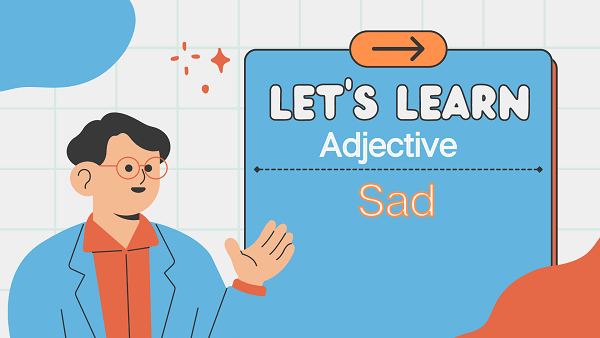 Casting Light on The Word 'Sad'
Definition
"Sad" is an adjective used to describe a feeling of sorrow, unhappiness, or emotional distress. When someone is sad, they may experience feelings of melancholy, grief, or disappointment.
Meaning
The meaning of "sad" is linked to negative emotions and a low-spirited emotional state. It indicates that someone is experiencing emotional pain or distress due to various factors such as loss, rejection, failure, or loneliness.
Synonyms
Unhappy
Sorrowful
Mournful
Depressed
Melancholic
Gloomy
Downhearted
Dejected
Blue
Dismal
Antonyms
Happy
Joyful
Cheerful
Delighted
Content
Ecstatic
Elated
Glad
Jubilant
Excited
Importance of  Sad
Understanding the concept of "sad" emotions is crucial for various reasons:
Empathy and Emotional Intelligence
Recognizing when someone is feeling sad allows us to show empathy and support, enhancing our emotional intelligence and strengthening relationships.
Art and Literature
Sadness is a fundamental aspect of storytelling and art, allowing creators to evoke deep emotions and connect with their audience on a profound level.
Personal Growth
Understanding our own sadness and its root causes can lead to personal growth, introspection, and the development of coping strategies to deal with difficult emotions.
FAQs(Frequently Asked Questions)
How can I cope with feelings of sadness?
Coping with sadness involves various strategies such as talking to someone you trust, engaging in activities you enjoy, practicing mindfulness or meditation, seeking professional help, and focusing on self-care.
Is it normal to feel sad for no apparent reason?
Yes, it is normal to experience sadness without a clear reason. Emotions can be complex, and sometimes we might feel sad due to internal struggles, unresolved feelings, or even chemical imbalances.
When does sadness become a cause for concern?
Sadness becomes a cause for concern when it persists for an extended period, significantly interferes with daily functioning, or leads to thoughts of self-harm or suicide.
Can sadness be beneficial in any way?
While sadness is generally seen as a negative emotion, it can serve a purpose by helping us process loss, learn from difficult experiences, and appreciate moments of happiness even more. In moderation, sadness is a natural part of the human experience.
Continue To Explore A-Z Words