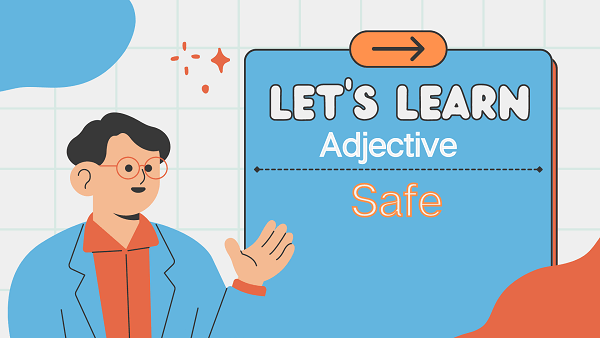 Casting Light on The Word 'Safe'
Definition
"Safe" is an adjective used to describe a state of being free from harm, danger, risk, or threat. When something or someone is considered safe, it implies that there is a low probability of encountering harm or adverse consequences.
Meaning
The meaning of "safe" is linked to security and protection. It denotes an environment or situation in which potential hazards are minimized or eliminated, ensuring the well-being and welfare of individuals or things involved.
Synonyms
Secure
Protected
Shielded
Harmless
Sound
Unhurt
Free from danger
Risk-free
Reliable
Assured
Antonyms
Unsafe
Risky
Dangerous
Hazardous
Insecure
Vulnerable
Unprotected
Perilous
Risk-laden
Unsafe
Importance of Safe
Understanding the concept of "safe" is crucial for various reasons:
Safety and Security
Prioritizing safety is essential for the well-being of individuals, communities, and society as a whole. It helps prevent accidents, injuries, and harm to people and property.
Risk Management
Understanding safety allows individuals and organizations to identify and manage potential risks effectively, leading to better decision-making and disaster prevention.
Health and Well-being
Ensuring safety is fundamental in maintaining physical and mental health. Safe environments promote a sense of security and reduce stress and anxiety.
Trust and Confidence
Being in a safe environment or dealing with safe products/services fosters trust and confidence in individuals, businesses, and institutions.
FAQs(Frequently Asked Questions)
How can I ensure my personal safety in everyday life?
Ensuring personal safety involves being aware of your surroundings, avoiding risky situations, staying informed about potential dangers, using common sense, and taking appropriate precautions such as locking doors, not sharing personal information with strangers, and being cautious when using technology.
What should I look for to identify if a website is safe for online transactions?
To identify a safe website for online transactions, look for the padlock symbol in the address bar, indicating a secure connection (HTTPS). Additionally, check for SSL certificates, read reviews and ratings, and verify the website's authenticity before providing sensitive information or making payments.
How can organizations promote a culture of safety in the workplace?
Organizations can promote a culture of safety by implementing safety protocols and procedures, providing training to employees on safety measures, encouraging open communication about safety concerns, rewarding safe practices, and actively involving employees in safety initiatives.
What are some safety tips for traveling to unfamiliar places?
When traveling to unfamiliar places, research the destination beforehand, be aware of local customs and laws, keep important documents secure, avoid displaying valuable items in public, use reputable transportation services, and stay in well-reviewed accommodations.
Continue To Explore A-Z Words