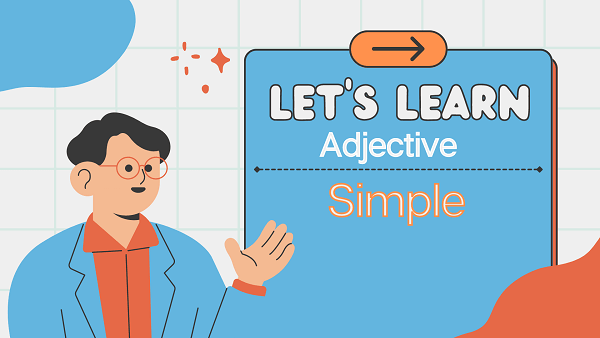 Casting Light on The Word 'Simple'
Definition and Meaning
"Simple" is an adjective with various meanings, often used to describe something that is easy to understand, uncomplicated, or not complex. It can refer to objects, ideas, processes, or tasks that lack intricacy or sophistication.
Meaning
Easy
uncomplicated
straightforward
plain
basic
elementary
unpretentious.
Antonyms
Complicated
complex
intricate
sophisticated
convoluted
elaborate
difficult.
Importance of Simple
The concept of simplicity holds importance in several aspects of life and thinking:
Clarity and Understanding
Simplicity promotes clarity, making it easier for people to comprehend information, instructions, or concepts without confusion.
Efficiency and Effectiveness
In design, engineering, or problem-solving, simplicity can lead to more efficient and effective solutions.
Communication
Simple language and communication are essential for effective interactions, ensuring that messages are clear and easily grasped by the intended audience.
Minimalism and Sustainability
Embracing simplicity and minimalism can contribute to sustainable living, reducing waste and focusing on essential needs rather than excessive consumption.
FAQs(Frequently Asked Questions)
Is simplicity always better than complexity?
Not necessarily. The preference for simplicity or complexity depends on the context and the specific requirements of a situation. In some cases, simplicity is more efficient and user-friendly, while in others, complexity may be necessary to address intricate issues or achieve specific goals.
Can simplicity lead to innovation?
Yes, simplicity can lead to innovation, especially in design and technology. By simplifying existing processes or products, innovation can create user-friendly and more accessible solutions that appeal to a broader audience.
Does simplicity apply to personal life and decision-making?
Yes, simplicity can be applied to personal life and decision-making. Embracing simplicity can help individuals prioritize what truly matters to them, make clearer choices, and reduce unnecessary stress or distractions.
Can simple ideas have a significant impact?
Absolutely. Simple ideas often have the power to resonate with people because of their straightforwardness and ease of understanding. They can spread quickly and have a profound influence on individuals and society as a whole. Examples of impactful simple ideas include memorable slogans or motivational quotes.
Continue To Explore A-Z Words