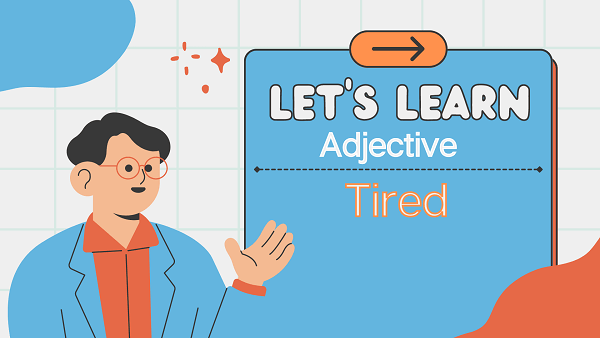 Casting Light on The Word 'Tired'
Definition
"Tired" is an adjective used to describe a state of fatigue or exhaustion, often resulting from physical or mental exertion. It signifies a feeling of weariness or lack of energy.
Meaning
When someone or something is referred to as "tired," it indicates that they are in need of rest or relaxation due to the depletion of their energy reserves.
Synonyms
Exhausted
Weary
Fatigued
Worn-out
Drained
Fatigued
Depleted
Spent
Sapped
Jaded
Antonyms
Energetic
Refreshed
Invigorated
Rested
Rejuvenated
Vigorous
Enlivened
Revitalized
Restored
Lively
Importance of Tired
The significance of "tired" can be observed in various aspects of life, including:
Health and Well-being
Recognizing when someone is tired is essential for their overall health and well-being. Ignoring fatigue and not getting enough rest can lead to various health issues and reduced cognitive function.
Workplace Productivity
In the workplace, identifying tired employees is crucial for maintaining productivity and ensuring their safety. Fatigue can impair decision-making and increase the risk of accidents.
Driving Safety
Understanding the signs of tiredness is vital for road safety. Driving while tired can be as dangerous as driving under the influence of alcohol, as it reduces reaction times and impairs judgment.
Self-Care and Balance
Recognizing and acknowledging one's own tiredness is essential for practicing self-care and achieving a balanced lifestyle. Taking time to rest and recharge can improve overall well-being.
FAQs(Frequently Asked Questions)
What are some common causes of tiredness?
Tiredness can result from various factors, including lack of sleep, physical overexertion, mental stress, medical conditions (such as anemia or thyroid problems), poor nutrition, and certain medications.
How much sleep do adults need to avoid feeling tired?
The amount of sleep needed can vary among individuals, but most adults require 7 to 9 hours of sleep per night to feel well-rested and avoid tiredness during the day.
Can chronic tiredness be a sign of an underlying medical condition?
Yes, chronic tiredness or fatigue that persists despite adequate rest may be a symptom of an underlying medical condition, such as chronic fatigue syndrome, sleep disorders, or anemia. If tiredness is persistent or severe, it's essential to consult a healthcare professional for evaluation and proper diagnosis.
How can one combat tiredness and improve energy levels?
Combatting tiredness involves practicing healthy habits, such as getting enough sleep, maintaining a balanced diet, staying hydrated, engaging in regular exercise, managing stress, and avoiding excessive caffeine and alcohol consumption. If tiredness is chronic or severe, seeking medical advice is recommended.
Continue To Explore A-Z Words