Vinnytsia National Medical University is a medical university located in 1921 in Vinnytsia, Ukraine. It is famous as the administrative center of Vinnytsia Oblast. The institution awarded the great surgeon M.I. Pirogov for his high contribution and achievements to the development of higher medical education in 1960.
The assistance team of the institute was awarded the "Badge of Honor" order in 1984. The status of a university was given in 1994.  It is a certified educational institution according to the IV level of accreditation. Since 2002, Vinnytsia Ukraine has been granted the status of a national university.
About Vinnytsia National Pirogov Memorial Medical University
Vinnytsia National Medical University's scientific potential is multiplied by doctors of science (139 people), doctors of philosophy (13), and candidates of science (674 people). Which make up 75.5% of the significance of the scientific and pedagogical staff. Academic title of professor(111) and associate professor (4810. So far, the university widely executed computer technologies through 32 computer classes, and a multi-channel Internet network is used. Free access is given to students of higher education and teachers.
Fast Facts & Figures
The university team was granted certificates of honor from the Cabinet of Ministers of Ukraine and the Verkhovna Rada of Ukraine for their high professional achievements.
 It has one of the best Screening Test passing percentages and is almost 100 years old and is recognized by WHO and MCI.
The University awarded students an MD degree on completion of an MBBS in Ukraine which is equivalent to an MBBS in other countries.
Vinnytsia National Medical University has 12 scientific schools, postgraduate and doctoral programs, 12 certified scientific research laboratories, and 4 specialized academic councils.
VNMU acquire five specialized scientific journals indexed in international scientometric databases.
Therefore, The National Medical University was named after E. Pirogov sustains scientific relations and cooperates with medical faculties.
Builds relationships with foreign pharmaceutical companies of various foreign countries particularly, Germany, the USA, France, Great Britain, and Poland.
The University teachers participate in implementing many international projects and clinical research.
Training of VNMU students and postgraduate training of doctors is organized at 54 departments, 44 of which are headed by doctors of sciences, and professors.
The University maintains close international relations and cooperates with medical faculties of 19 foreign countries including France, the U.S., Germany, England, and Russia.
Further, the Clinical Departments maintain close connections with 28 foreign pharmaceutical firms and VNMU teaching staff implement 72 international projects.
Vinnytsia Airport was an airport located near the village of Havryshivka, serving the city of Vinnytsia.
Rector of the VNMU
The University Rector's Office releases intended work on the preparation of the personnel reserve chosen from graduates who have proven themselves capable of scientific work during their student years. Also, they have finalized their master's and postgraduate studies. Further, every year the university teachers defend 4-6 doctoral and 30-35 candidate dissertations. Moreover, defend 6 doctoral and 45 candidate dissertations in 2005.
The Rector Office has the following members: Doctor of medical sciences, Vasyl Maksymovych Moroz,  professor, Hero of Ukraine. In addition, full member of the National Academy of Medical Sciences of Ukraine, an Honored Worker of Science and Technology of Ukraine, and a Laureate of the State Prize of Ukraine in the field of science and technology.
Admission Criteria for Doctorate Degree:
Students passing Mbbs / MD / BDS degrees with transcripts.
Completion Certificate of Internship.
A Completion Certificate of Residency or Postgraduate Medical Education is required.
Vinnytsia Ukraine Map
You can see Vinnytsia Ukraine Map With Complete Information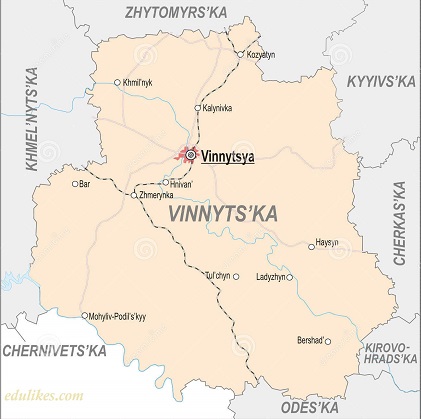 The Vinnytsia National University Medical University enrolls students with all passing grades or marks for admission.
Because this institution has
low tuition fees and also
offers multiple benefits to students such as low-cost food, fee structure, and housing in Ukraine. 
It is easy to get admission to VNMU.
One more thing about the
Ukraine Medical University degree is 100% valid and the students can go to the
USA, UK, Australia, New Zealand, and Canada
for their PG studies. Food is easily available as per their choice.