Casting Light on The Word 'Ample'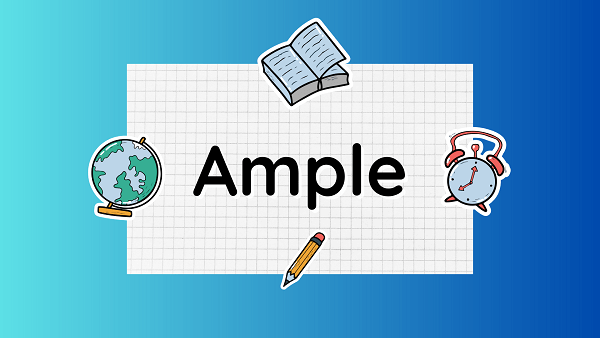 Definition
"Ample" refers to something that is plentiful, abundant, or spacious. It implies having enough or more than enough of what is needed or desired.
Synonyms
Synonyms for "ample" include plentiful, abundant, plentiful, sufficient, plentiful, generous, copious, bountiful, extensive, and satisfactory.
Antonyms
Antonyms for "ample" include insufficient, inadequate, scarce, limited, meager, restricted, insufficient, and inadequate.
Quantity and Size
"Ample" can describe both the quantity and size of something. It suggests that there is enough or more than enough of a particular item or that the size is spacious or substantial.
Space or Room
When referring to physical space or room, "ample" implies a significant amount of available space or a spacious area. It suggests a comfortable or roomy environment.
Time or Opportunity
The term "ample" can also refer to having enough time or opportunity to accomplish a task or pursue a particular goal. It implies an adequate or sufficient amount of time for completion.
Descriptive Use
"Ample" is often used to describe characteristics, features, or proportions. For example, it can be used to describe ample evidence, an ample supply, an ample amount of food, or an ample budget.
Flexibility and Resources
Having ample resources or options indicates a degree of flexibility and the ability to handle contingencies or unexpected situations with ease. It suggests a surplus or abundance of resources.
Comfort and Satisfaction
It conveys a sense of comfort and satisfaction, indicating that one has enough or more than enough to meet their needs or desires. It implies a state of contentment or sufficiency.
Positive Connotation
Generally, "ample" carries a positive connotation, highlighting the presence of abundance, adequacy, or spaciousness. It suggests a state of having more than what is required or expected.
Continue To Explore A-Z Words