Casting Light on The Word 'Appreciated'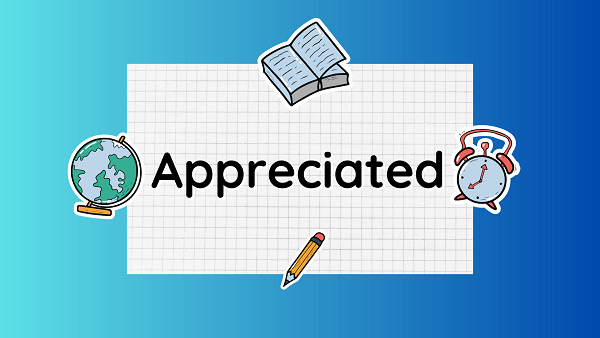 Definition
"Appreciated" is used to describe the feeling of being recognized, valued, or acknowledged for one's actions, qualities, or contributions. It implies a sense of gratitude or recognition.
Synonyms
Synonyms for "appreciated" include recognized, valued, acknowledged, thanked, admired, cherished, applauded, respected, and esteemed.
Antonyms
Antonyms for "appreciated" include disregarded, overlooked, ignored, unacknowledged, undervalued, unappreciated, disrespected, and scorned.
Gratitude and Recognition
When someone says they feel "appreciated," it means they feel grateful and recognized for their efforts, achievements, or the positive impact they have had on others.
Expression of Thanks
"Appreciated" is often used as a response to express gratitude when someone shows kindness, support, or assistance. For example, saying "Much appreciated" is a way of acknowledging and thanking someone for their help.
Feeling of Value
Feeling appreciated can provide a sense of being valued and respected by others. It can enhance self-esteem and strengthen relationships.
Acts of Appreciation
Acts of appreciation, such as saying thank you, expressing gratitude, giving compliments, or showing gestures of recognition, contribute to making others feel appreciated.
Workplace Importance
Feeling appreciated is crucial in work environments. When employees feel recognized and valued for their contributions, it can boost morale, motivation, and overall job satisfaction.
Personal Relationships
In personal relationships, expressing appreciation and making someone feel appreciated can strengthen bonds and foster a positive emotional connection.
Reciprocity
Appreciation is often a reciprocal process. When someone feels appreciated, they are more likely to reciprocate the positive sentiments and express their appreciation in return.
Continue To Explore A-Z Words