Casting Light on The Word 'Bright'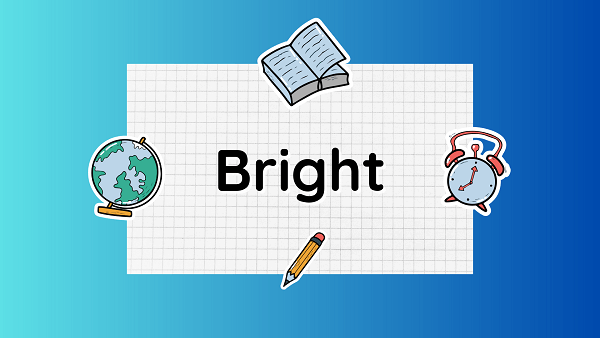 Definition
"Bright" is an adjective that describes something that emits or reflects a strong, intense, or vivid light. It can also refer to something full of light, vibrant, or shining. Additionally, "bright" can describe someone intelligent, quick-witted, or intellectually sharp.
Synonyms for Light
Radiant, luminous, gleaming, shining, brilliant, dazzling.
Synonyms for Intelligent
Clever, smart, sharp, intelligent, brilliant, astute.
Antonyms for Light

Dim, dull, dark, shadowy, gloomy.
Antonyms for Intelligent
Dull, unintelligent, slow-witted, ignorant.
Physical Brightness
When referring to light, "bright" is used to describe something that emits or reflects a high level of illumination. It can describe natural sources of light, such as the sun or a star, as well as artificial sources, such as a lamp or flashlight.
Figurative Brightness
Beyond its literal meaning of light, "bright" is often used figuratively to describe things that are vibrant, vivid, or full of life. For example, a "bright smile" refers to a cheerful and radiant expression.
Intelligence and Mental Acuity
"Bright" can also describe someone who is intellectually gifted, sharp, or quick-witted. It refers to individuals who possess high cognitive abilities or exhibit exceptional intelligence.
Positive Connotations
"Bright" generally carries positive connotations. Likewise, it is often associated with qualities such as optimism, positivity, brilliance, and vitality.
Symbolism
Brightness and light are often used symbolically to represent knowledge, enlightenment, hope, and positivity.
FAQs(Frequently Asked Questions)
What is a sentence for bright?
Here are a few sentences that showcase the use of the word "bright":
The sun rose over the horizon, casting a bright light that illuminated the entire landscape.
She wore a stunning dress in a bright shade of red, making her stand out in the crowd.
The child's eyes sparkled with excitement as she looked at the bright fireworks in the night sky.
What is a word for bright?
Several words can be used as synonyms for "bright." Here are a few alternatives:
Radiant
Luminous
Shining
Brilliant
Dazzling
Glowing
Vivid
Gleaming
Resplendent
Sparkling
What does being bright mean?
Being "bright" can have multiple meanings depending on the context. Here are a few interpretations:
Physical Brightness:
In a literal sense, being "bright" refers to emitting or reflecting a strong, intense, or vivid light.
Intellectual Brightness:
When applied to a person, being "bright" often signifies intelligence, quick-wittedness, or mental sharpness.
Positive Outlook:
 It refers to individuals who radiate optimism, cheerfulness, or an uplifting attitude.
Vibrancy and Energy:
It suggests a person or object that is lively, vibrant, or full of life, exuding a sense of vitality and enthusiasm.
What does Brite mean in English?
In English, the word "brite" is not a standard word with a specific meaning. However, "Brite" is sometimes used as a variant or abbreviation of the word "bright,", especially in brand names or product names.
Continue To Explore A-Z Words