Casting Light on The Word 'Clever'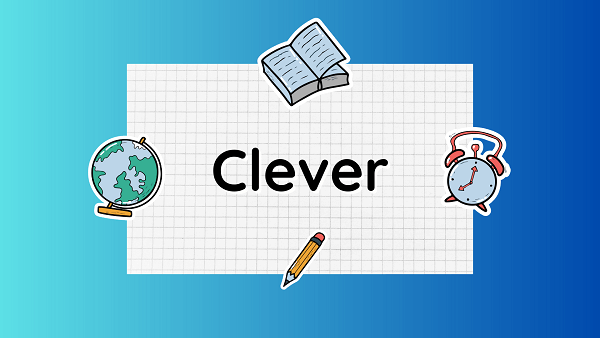 Definition
Clever is an adjective that describes someone who is quick-witted, intelligent, and mentally sharp. It suggests a person's ability to think creatively, solve problems, and understand complex concepts.
Synonyms
Some synonyms for clever include intelligent, smart, sharp, witty, astute, resourceful, ingenious, and quick-minded.
Antonyms
On the contrary, antonyms of clever include foolish, unintelligent, dull, naïve, gullible, and simple-minded.
Mental Agility
Clever individuals often possess mental agility and are capable of thinking on their feet. They have a knack for finding innovative solutions and demonstrating a high degree of mental dexterity.
Problem-Solving
Clever people excel at problem-solving. They can analyze situations, identify patterns, and come up with inventive and efficient solutions.
Wit and Humor
Cleverness is often associated with a quick wit and a good sense of humor. Clever individuals are skilled at making clever and humorous observations, engaging in wordplay, and displaying clever banter.
Adaptability

Cleverness often goes hand in hand with adaptability. Clever individuals can quickly adapt to new situations, think on their feet, and find creative solutions when faced with challenges.
FAQs(Frequently Asked Questions)
What is the full meaning of Clever?
The full meaning of "clever" encompasses several characteristics, including the ability to think creatively. It is the solve problems, and understand complex concepts. Clever individuals are often resourceful, and ingenious, and display mental agility in their thinking.
What is Clever used for?
The term "clever" is used to describe individuals or things that exhibit intelligence, quick thinking, and resourcefulness.
Describing People:
"Clever" is often used to describe individuals who demonstrate intellectual agility, problem-solving skills, and a quick wit.
Problem-Solving:
Cleverness is associated with effective problem-solving abilities.
Wit and Humor:
Cleverness is often linked to a sharp sense of humor and the ability to make clever observations or witty remarks.
Inventions and Innovations:
The term "clever" can be applied to inventions, designs, or solutions that are ingenious, resourceful, and demonstrate a high level of creativity or intelligence.
Continue To Explore A-Z Words