Casting Light on The Word 'Critical'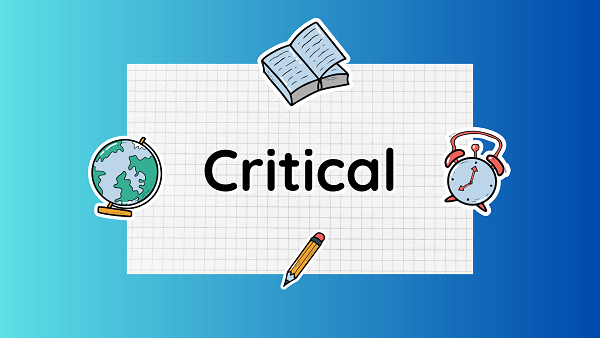 Definition
Expressing adverse or disapproving comments or judgments; inclined to find fault or criticize.
Interesting Meanings of The Word Critical
Evaluative or Analytical
One common meaning of "critical" is to be evaluative or analytical, involving careful judgment, assessment, or analysis. It often implies a thorough examination of something, such as a situation, a piece of work, or a decision.
Importance or Significance
"Critical" can also refer to something that is crucial, essential, or of great importance. It suggests that the matter or situation at hand is significant and requires careful attention or consideration.
Disapproving or Negative
Another sense of "critical" is to express disapproval or negativity. In this context, it implies a tendency to find faults or flaws, offer harsh judgments, or engage in criticism.
Emergency or Urgent
"Critical" can also describe a state of urgency or emergency, indicating that a situation or condition is at a crucial stage and requires immediate attention or action.
Critical Thinking
It is often associated with the term "critical thinking." It refers to the ability to objectively analyze, evaluate, and interpret information or ideas, considering multiple perspectives and evidence before forming judgments or making decisions.
Precision or Accuracy
In certain fields, such as science or engineering, "critical" may describe a level of precision or accuracy that must be maintained to ensure proper functioning or desired outcomes.
Synonyms

Depending on the specific context, synonyms for "critical" include crucial, vital, essential, important, pivotal, significant, evaluative, analytical, disapproving, negative, urgent, and decisive.
Antonyms
Complimentary
Supportive
Praise
Appreciative
Admiring
Positive
Encouraging
Affirming
Approving
Favorable
FAQs(Frequently Asked Questions)
What does critical mean?
The phrase "at critical" is incomplete and lacks clarity. However, if you are referring to being "at a critical moment" or "at a critical point," it typically indicates a crucial or pivotal stage or juncture in a situation or process. It suggests that the current circumstances or decisions being made have significant consequences or can greatly influence the outcome.
Does critical mean crucial?
Yes, "critical" and "crucial" are often used interchangeably as they share a similar meaning. Both words convey the idea of something being extremely important, essential, or decisive.
Continue To Explore A-Z Words