Casting Light on The Word 'Dramatic'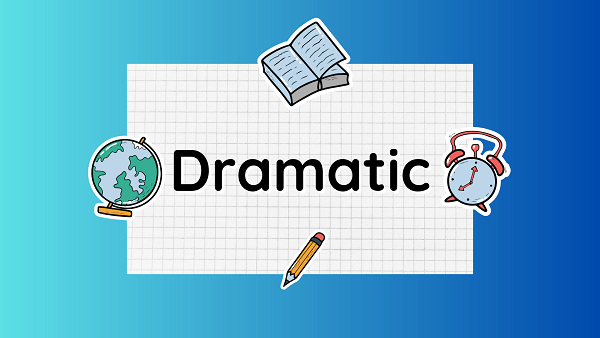 Definition
"Dramatic" is an adjective that describes something that is characterized by intense emotions, strong contrasts, or significant events. It often pertains to the realm of drama, theater, or storytelling, where heightened emotions, conflicts, and impactful moments are central.
Emotionally intense
When used to describe a situation, event, or performance, "dramatic" suggests a strong emotional impact or intensity. It can refer to actions, reactions, or expressions that evoke powerful feelings, such as excitement, suspense, passion, or tension.
Striking or impressive
"Dramatic" can also describe something that is visually or aesthetically striking, impressive, or attention-grabbing. It implies a noticeable contrast, vividness, or grandeur in appearance, design, or presentation.
Pertaining to theater or performance
In the context of theater or performance arts, "dramatic" relates to elements, techniques, or styles used to create a compelling and emotionally engaging experience for the audience. It encompasses aspects such as dialogue, plot development, character interactions, stage effects, and dramatic tension.
Significant or notable
"Dramatic" can denote events or changes that are substantial, significant, or remarkable in nature. It implies a notable shift, impact, or consequence that captures attention and stands out from the ordinary.
Synonyms
Synonyms for "dramatic" include theatrical, striking, impressive, intense, thrilling, powerful, vivid, sensational, notable, and significant.
Antonyms
Antonyms for "dramatic" include mundane, ordinary, unremarkable, unimpressive, subtle, understated, and subdued.
Etymology
The word "dramatic" originated from the Greek word "dramatics," which means "pertaining to drama." It entered the English language in the 16th century and has since evolved to encompass a broader range of meanings beyond its theatrical origins.
These facts provide an overview of the various meanings and applications of the word "dramatic." Whether used to describe intense emotions, striking visuals, significant events, or theatrical performances, "dramatic" conveys a sense of heightened intensity, impact, or attention-grabbing qualities.
FAQs(Frequently Asked Questions)
What is the meaning of being dramatic?
 Being dramatic refers to exhibiting or expressing exaggerated emotions, reactions, or behaviors, often for the purpose of gaining attention or creating a strong impact. It involves a tendency to magnify or intensify one's emotions or responses beyond what is considered typical or necessary in a given situation.
What is dramatic behavior?
Dramatic behavior refers to patterns of behavior that are characterized by heightened emotions, exaggerated expressions, or attention-seeking tendencies. It involves actions and reactions that are meant to create a strong impact, draw attention, or elicit a response from others.
Here are some common characteristics of dramatic behavior:
Exaggerated emotions.
Attention-seeking.
Theatricality.
The tendency for conflict.
Difficulty with emotional regulation.
What are synonyms of dramatic?
Related