Casting Light on The Word 'Hearty'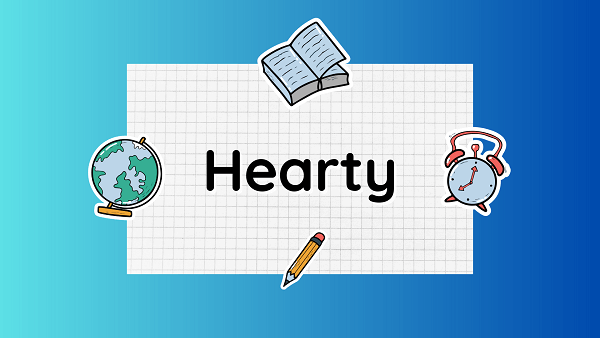 Definition
Hearty is an adjective that describes something or someone as expressing genuine warmth, enthusiasm, or friendliness. It can also refer to something that is substantial, wholesome, or satisfying.
Synonyms
Some synonyms for hearty include warm, cordial, enthusiastic, wholehearted, sincere, robust, substantial, and nourishing.
Antonyms
Antonyms of hearty include cold, aloof, insincere, indifferent, weak, meager, and unsatisfying.
Context
The word "hearty" is commonly used in various contexts, such as social interactions, greetings, hospitality, meals, and emotional expressions. It conveys a sense of genuine warmth, sincerity, and generosity.
Examples
Here are some sentences that illustrate the use of the word "hearty":
"They gave us a hearty welcome when we arrived at their home."
"Hearty laughter filled the room as everyone enjoyed the joke."
"A hearty meal of homemade soup and freshly baked bread was served."
"She expressed her hearty appreciation for their support and kindness."
Positive attribute
Being hearty is generally considered a positive attribute. It signifies a genuine and wholehearted approach to interactions, expressing warmth, enthusiasm, and sincerity. Hearty actions and gestures can foster positive relationships and create a welcoming atmosphere.
Nourishing aspect
When referring to food, hearty can also describe a meal or dish that is substantial, satisfying, and nourishing. It implies that the food provides comfort and sustenance, often associated with hearty portions and ingredients that are rich in flavor and nutrients.
FAQs(Frequently Asked Questions)
What does it mean to be hearty?
To be hearty means to exhibit genuine warmth, enthusiasm, or friendliness in interactions. It can also refer to something that is substantial, satisfying, or nourishing, especially in relation to food.
What is a hearty meal?
A hearty meal refers to a substantial and satisfying meal that typically contains generous portions and is rich in flavor. It often includes wholesome and filling ingredients, providing nourishment and a sense of satisfaction.
What is a synonym for healthy?
A synonym for healthy is "well" which indicates a state of being in good physical, mental, and emotional condition. Another synonym is "fit" which describes someone in good health and physical shape.
Continue To Explore A-Z Words
Related