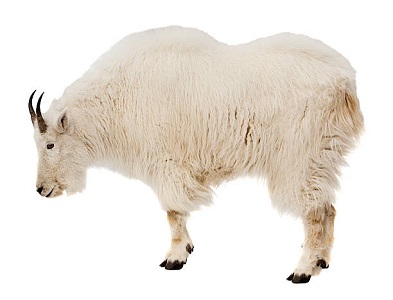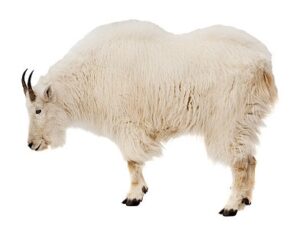 Mountain

Goat General Characteristics & Facts
Scientific name: Oreamnos americanus.
Mountain goats are native to North America.
They are well adapted to living in rugged, mountainous terrain.
Their hooves have a rubbery padding that provides traction on steep and rocky surfaces.
Both male and female mountain goats have distinctive curved horns.
They primarily feed on vegetation, including grasses, shrubs, and lichens.
Mountain goats are excellent climbers and can navigate steep slopes with ease.
Mountain goats are not true goats; they are more closely related to antelopes.
They can be found in alpine and subalpine environments.
These animals have a strong social structure and live in groups called bands.
During mating season, males compete for dominance through displays of strength.
The young are called kids and are usually born in the spring.
Mountain goats have a specialized digestive system that allows them to extract nutrients from tough plant materials.
They have a relatively long lifespan, often reaching 12 to 15 years in the wild.
Predators of mountain goats include wolves, cougars, and bears.
To avoid predators, they often seek out high, inaccessible ledges.
Climate change and habitat fragmentation can pose threats to mountain goat populations.
Conservation efforts are in place to protect and manage their populations.
Mountain goats are a popular target for wildlife photographers and outdoor enthusiasts.
Their ability to thrive in extreme environments has made them a symbol of ruggedness and adaptability.
Read our Animals Encyclopedia with Complete Facts
Continue To Explore All Animals That Start With G
Mountain

Goat Scientific Classification

Kingdom: Animalia

Phylum: Chordata

Class: Mammalia

Order: Artiodactyla

Family: Bovidae

Subfamily: Caprinae

Genus: Capra

Species: Various species, including Capra aegagrus (wild goat) and Capra hircus (domestic goat)
Mountain

Goat Key Locations
India
China
Nigeria
Bangladesh
Pakistan
Ethiopia
Sudan
Somalia
United States
Brazil
View All A-Z Animals List
Mountain Goat FAQs
What Mountain Goat Eats the Most?
Here's a list of what Mountain goats eat:
Grass
Leaves
Shrubs
Weeds
Herbs
Hay
Forage crops (such as alfalfa, clover, and vetch)
Tree bark and twigs
Browse (woody plants)
Pasture plants
Agricultural crop residues
Certain fruits and vegetables (in moderation)